Jul 13 2005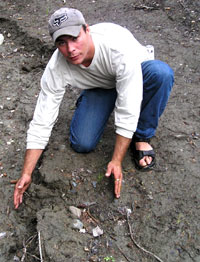 CBC News -- A group of people in the Yukon community of Teslin say they saw a sasquatch or bushman over the weekend, the second reported sighting in the area in about a year.
Nine people, some of them children, say a large human-like figure covered in hair passed by a window of a house. They later saw it standing behind an abandoned car near some houses in the community, which is located 180 kilometres east of Whitehorse.
Chucka Choumant and Trent Smarch are two of the people who believe they saw the sasquatch.
The men said they heard trees snapping and creaking even
though there was no wind at the time. The figure they saw was nearly three metres tall and moving fast, they said – too fast for them to keep up even when they were running.
The creature left behind some evidence, the men said: a footprint about twice the size of a human's, and a small patch of hair found in the area that has been sent to a conservation officer in Whitehorse.
Those who say they saw the creature would like the sample to undergo DNA testing.
* FROM JUNE 7, 2004: Yukon villagers believe they saw Bigfoot

Tales of sasquatch sightings aren't new in Teslin. For example, Doug Smarch remembers hearing about a large hairy man coming close to the community about 40 years ago.

"There's old-time stories. They said there were such things," said Smarch.
"I don't think that nine people that seen it could tell the same story. They wouldn't be able to tell the same story if it wasn't true."

http://north.cbc.ca/regional/servlet/View?filename=teslin-bushman13072005
http://north.cbc.ca/regional/servlet/View?filename=yuk-teslinbigfoot07062004
- ---
Canadian Sasquatch? New Evidence Emerges - July 15, 2005 by Kerry Corum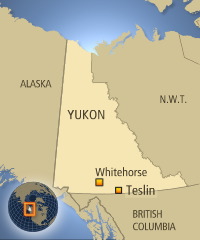 In the woods near a small town in Yukon, Canada, several people near the town of Teslin say they've spotted a Sasquatch - and this time, there's some interesting evidence. It seems the beast left a bit of himself behind, a chunk of hair has been sent to Vancouver for DNA testing.
And there are also footprints and several witnesses, like Trent Smarch. "My Uncle Doug, he's been in the bush. He says it's not a bear track or anything he's ever seen, and he's an old-timer. He's one of our elders, actually that's him right there, my uncle Doug." Witness Chucka Choumat says, "So we followed it through here, and then it just booked, straight through the trees." Roger Smarch also saw the creature. "I was going to the bathroom just over there, and when I looked up, it was just standing there, like watching me. And I started screaming for Chucka, because Chucka's a big guy."
Tree branches in the area have been broken off at the ten-foot-high level. In all, about nine people claim to have had a very close encounter with the Sasquatch.
http://www.14wfie.com/Global/story.asp?S=3598713&nav3w6ocBLe
- ---
Third Article:
The Whitehorse Star http://www.whitehorsestar.com/auth.php?r=38838

Government investigating bush creature sightings - By Chuck Tobin July 15, 2005
Teslin, Yukon -- Another reported incident of a sasquatch seen in Teslin last weekend is being looked into by staff from the Department of Environment.

Teslin conservation officer John Klein said Wednesday he received eyewitness accounts of something weird in the woods at about 2:30 a.m. last Sunday. He is planning to do follow-up interviews with those who say saw something.

"It was not until the following morning at daybreak on Sunday morning that people started investigating what they saw, and that is when a print was found and a sample of hair," Klein explained.

He said by the time he got involved and was shown the location of the print, the area in question had been disturbed quite a bit by the numerous people who wanted to see what some believe is evidence of Big Foot.

By the time Klein saw the print, there were no distinct features like the outlines of toes or such, but those who saw it initially say it was quite a bit more foot-like before the area was heavily visited. The print, he said, measured 43 centimetres (17 inches) in length and 11.5 cm (4.5 inches) in width.

The tuft of hair collected will be sent for analysis to Philip Merchant, the department's laboratory specialist in Whitehorse.

Doug Larsen, chief of the wildlife management branch, said this morning it should be relatively straightforward to determine if the hair comes from a common local animal like a bear.
If the analysis is inconclusive, however, it may be that the sample would have to be subject to further scrutiny, such as a DNA test, he explained.

Larsen said DNA testing can be very expensive if it's intensive enough to identify a specific person for forensic purposes. But having a DNA test simply to determine if the hair is human or not, for instance, should also be relatively straightforward, he said.

Eyewitnesses to the incident could not be reached this week. Many were attending the annual general meeting of the Teslin Tlingit Council.

Klein said reports indicate about nine people saw what they maintain was a sasquatch-type figure. In much the same way one would expect a neighborhood to react to a bear sighting in the area, kids were cleared from the street and the area known as Smarchville was on the alert, he explained.

The report of a sighting comes a year after a similar report last June by two area residents who swear they saw something Big-Foot like cross their paths in the early morning. Conservation officer David Bakica said back then he was convinced upon interviewing the two adults locals – both familiar with wildlife – that they were shaken up by whatever they saw.
- ---
Additional Yukon sighting in Keno Hill ... http://www.bigfootencounters.com/stories/kenohill.htm
Back to What's New?
Back to Stories?
Back to Newspaper & Magazine Articles
Home/Main
Portions of this website are reprinted and sometimes edited to fit the standards of this website under the Fair Use Doctrine of International Copyright Law
as educational material without benefit of financial gain.
http://www4.law.cornell.edu/uscode/17/107.html
This proviso is applicable throughout the entire Bigfoot Encounters Website