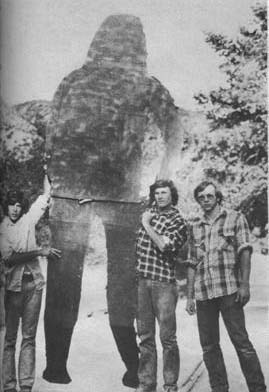 L to R -
Brian Goldojarb, Richard Engels and William (Willy) Roemermann.

Roemermann called me some years back (in the late 90s, I think) and said that both he and Richard were policeman in Palmdale, California at the time. Now officially "Officer William Roemermann," he told me he had re-visited the location and felt very uncomfortable and had to leave. He said the experience still haunts him.
The original sighting was long ago, roughly 1971, but I believe all three boys were in their late teens at the time. The cut-out was 12 feet high.

The size of the creature has been misreported as 8 feet by some authors. The boys said the creature chased their pickup for a short distance before suddenly veering off the road and into a canyon. They distinctly saw its head brush the end of an overhanging tree branch.

The tree branch was 12 feet above the road. I had set up a field camp there that was active for about 6 months. ....Peter Guttilla updated 2007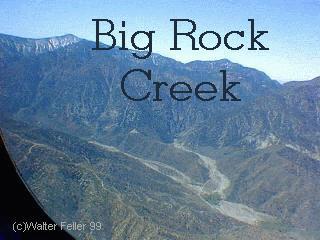 Updated 2011 - The were camped at Big Rock and detected something moving around them. Feeling panicky, they packed up and drove their compact pickup down the mountain. When they got to Sycamore Flat, a 12-foot high creature ran from the campground and loped behind their truck...
Peter Guttilla 2011








Back to Videos, images and sound?
Back to Bigfoot Encounters Main page
Back to Newspaper & Magazine Articles
Back to Bigfoot Encounters "What's New" page


Portions of this website are reprinted and sometimes edited to fit the standards of this website
under the Fair Use Doctrine of International Copyright Law
as educational material without benefit of financial gain.
http://www4.law.cornell.edu/uscode/17/107.html
This proviso is applicable throughout the entire Bigfoot Encounters Website.