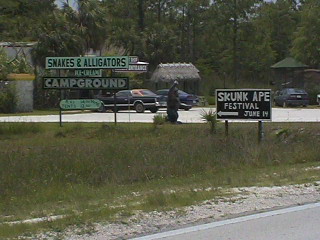 OCHOPEE, FL --Twenty-five years ago, a local festival gave birth to the legend of skunk ape, and on Saturday a renewed Skunk Ape Festival attracted about 75 partygoers at the Trail Lakes Campground in Ochopee.
Shortly after a tourist had a run-in with the skunk ape more than two decades ago, the story began to circulate, skunk ape expert David Shealy said.

A man named Bill Mitchell threw a festival in honor of the skunk ape and all the money from the festival went to the fire department in Everglades City. Shealy said this year's Skunk Ape Festival is being held to honor Bill Mitchell and the first festival. "He was a visionary," Shealy said. "He knew the skunk ape had something to offer Florida."
The skunk ape has the body of an ape but smells like a skunk and lives mostly in Southwest Florida, Shealy said. It was first seen in 1957 by a pair of hunters, and Shealy claims to have seen it three times.
Since he first saw the skunk ape, Shealy said he has devoted his life to investigating it and proving its existence. His goal is to make it a local legend and make it a tourist attraction for Southwest Florida.
While lots of friends and supporters of Shealy were in attendance, many people who came to the festival showed up just by chance.
Naples resident Carole "Snooky" Row read about the Skunk Ape Festival in the paper and decided to take a risk.
"A girlfriend of mine and I like to go on adventures," Row said. "She saw the ad in the paper and said, 'let's go see what it is.' "
Row said she got ready for the festival by cutting up some jeans and wearing a tank top in order to be appropriately dressed.
Bryan and Dianne Chilton also had no prior plans to come to the festival but made sure to bring their own chairs and cooler when they did.
They said they came because they were looking for a good time and they were curious about what would happen at the festival. The Chiltons, who have lived in Lehigh for 15 years, said they have heard of the skunk ape and "were hoping to see one today."
The activities at the Skunk Ape Festival included a Ms. Skunk Ape contest, which Shealy said was based on brains, looks and marketability.
"Whoever wins the contest will be an intricate part of marketing for the skunk ape in commercials and movies," he said.
Shealy served his alligator chili and signed autographs of never-before-released photos of the skunk ape with all proceeds going to his research. Blues and rock 'n' roll music was provided by Mark Haney of 96 K-ROCK in Fort Myers.
"They've (K-ROCK) been very supportive of my research over the years," Shealy said. "They give me all the airtime I wanted and I'm grateful forthem."
Although Shealy had plans laid out for the festival he said he didn't know what to expect.
"My expectations for the party are that my supporters who were in the shadows, would show up and I would get to meet them," he said. "And it's happening. What more can a guy ask for than that?"
Mark Haney who met Shealy 10 years ago at a parade said he had to find out more about him when they first met.
"He's a great guy, a real interesting character and he loves Florida," Haney said. "He's done a lot of good for the area." By mid afternoon Shealy declared the Skunk Ape Festival a success. "I don't know if I'll make it an annual thing but I would like to."

Back to Hoaxes?
Back to Bigfoot Encounters Main page
Back to Newspaper & Magazine Articles
Back to Bigfoot Encounters "What's New" page
Portions of this website are reprinted under the Fair Use Doctrine of International Copyright Law as educational material without benefit of financial gain.
http://www4.law.cornell.edu/uscode/17/107.html
This proviso is applicable throughout the entire website.