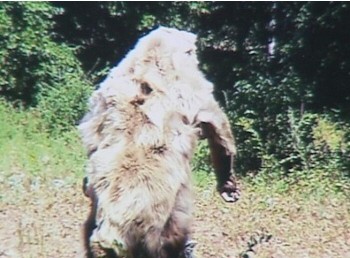 Photo images of reported bigfoot captured by © Larry Watson
August 1, 2006 -(CBS 3) CLEAR BOGGY CREEK, Oklahoma --An old legend is emerging from the woods once again. Over the last week there have been multiple sightings of a "Bigfoot" in rural Oklahoma.
Store owner Larry Watson set-up cameras hoping to catch a glimpse of the elusive creature. He captured several photos that show a large, hairy animal wandering about a wooded area.
While it is difficult to determine if it is a Bigfoot, a bear or a joke from the snapshots, two children said they spotted
the strange beast at Clear Boggy Creek in Atoka County.
"It was tall, it was brown, it had long shaggy hair, long legs and long arms," said 13-year-old Morgan Whatley.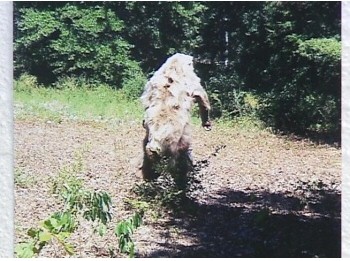 Officials initially passed Whatley's claim off as a case of an over-active imagination, until another sighting several days later.
Police said a woman in her 50's suffered an anxiety attack and had to be transported to a local hospital after spotting a sizable hairy creature in her yard.
In early July, there were several reports of a Bigfoot seen near Old Camp Maxey in Lamar County.


© MMVI, CBS Broadcasting Inc. All Rights Reserved
http://okla_cbs3.com/topstories/local_story_213092049.html

Back to Hoaxes?
Back to Bigfoot Encounters Main page
Back to Newspaper & Magazine Articles
Back to Bigfoot Encounters "What's New" page

Portions of this website are reprinted and sometimes edited to fit the standards of this website
under the Fair Use Doctrine of International Copyright Law
as educational material without benefit of financial gain.
http://www4.law.cornell.edu/uscode/17/107.html
This proviso is applicable throughout the entire Bigfoot Encounters Website.