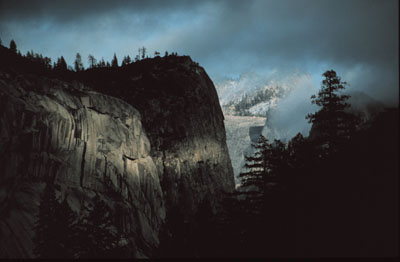 Photo is of California's Yosemite Polly Dome, upper ridge, above road, 500 yards. The informant had a brief view of two very large walking dark figures. Polly Dome is on the north side of Tenaya Lake.

I was just off of a hike up to Half Dome and was driving slowly out of the park.

Movement caught my eye on my left and I looked up the slope and saw the two large figures. It was a brief sighting but it was rather exciting.


I think, due to many tourists in the area, they were finally moving out near sundown after staying in a high sheltered area.

I made this post because even a brief sighting can be helpful in mapping their seasonal movements.

© Brian Donahue

Back to Stories?
Back to Bigfoot Encounters Main page
Back to Newspaper & Magazine Articles
Back to Bigfoot Encounters "What's New" page

Portions of this website are reprinted and sometimes edited to fit the standards of this website
under the Fair Use Doctrine of International Copyright Law
as educational material without benefit of financial gain.
http://www4.law.cornell.edu/uscode/17/107.html
This proviso is applicable throughout the entire Bigfoot Encounters Website.