The work of a prospector involves considerable secrecy, and reliability of his reports is an essential element in his continuing in the occupation. Thus a prospector who works for wages often cannot say where he has been, and he certainly is not going to say he saw a Sasquatch while he was there. For those reasons I am not able to identity either the people or the location — in fact I have been given the location only in general terms.
It was during the last week of June, 1965, at about the 4,000 foot level in a valley some where northwest of Pitt Lake in British Columbia, that the two men came upon a set of tracks in the snow. The tracks were recent. The toes showed clearly, and there were only four of them. Each print measured two boot lengths from toe to heel and one boot length across — about 24 inches long and 12 inches wide at the base of the toes. The impressions were "as flat as plywood," with no slide in or kick out. The snow in the bottom of the prints had a pink tint.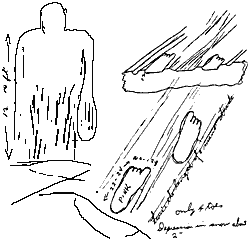 The two men followed the tracks up a valley until they led to a small lake which was still covered with ice. In the ice a large hole had been broken, with pieces of the broken ice lifted out beside the hole. All along where the tracks went there were marks of something being dragged. Left and right footprints were well separated from side to side and between them the snow had been scraped by something wide but not very heavy. Outside the line of the prints there were deep grooves, as deep as the footprints.