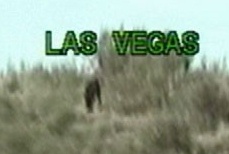 TENNESSEE -- September 28, 2007 -- Two Chattanoogans say they may have bagged the mythical "Bigfoot".

Lindsay Lemmon and Austin McGee said after returning from a trip out west, they found that video shot out the window along I-40 in New Mexico has a glimpse of what appears to be a hulking furry figure walking.

(....if this photo was taken in "Las Vegas, NM" as the caption overlay shows, - it is no where near I-40, it's on I-25)

Mr. Lemmon, a local contractor who specializes in historic homes, said, "I'm still skeptical, but it does look like a figure to me. If it was a prank, then it was awfully hot and it was out in the middle of nowhere."

Mr. McGee, who shot the footage, is much more positive. He said, "I believe it whole-heartedly. Every time I look at it on the VCR I see a figure with real long arms hanging below the knees. He is walking and swinging those arms."

He said a close examination of the figure reveals "a tan round face."

Mr. Lemmon, who went to Las Vegas for filming of a Discovery Channel show on drag racing, has contacted his CPA and is in the process of getting all rights to the video.

Mr. Austin said he contacted two groups that specialize in Bigfoot lore - one from Atlanta and another from Texas. He said, "They were ready to come to my house right then. They were freaking out. They were trying all sorts of ways to get to see it."

Mr. Lemmon said they plan to release the video after the copyright is in place.

He said they do not want to release the exact location in New Mexico, though they believe they can pinpoint it from a town sign that is earlier in the video. Also, an old abandoned shack is seen near "Bigfoot".

Both men said they did not see the figure while they were passing by that spot in remote New Mexico. Mr. Lemmon was driving and Mr. McGee had the camcorder dangling out the window.

Mr. McGee said his sister noticed the figure when she was looking at what he had shot. She said, "Whoa, what's that?"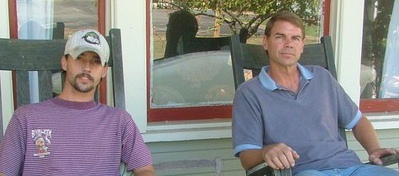 Mr. Lemmon said afterwards that Mr. McGee, who works restoring old houses for him, called and exclaimed, "We caught Bigfoot."
A local technician who transferred the video to a DVD said the figure "could be a horse. But when you see it you think immediately of the famous Patterson video of Bigfoot."
(photo L-R: Austin McGee and Lindsay Lemmon)

© Chattanooga dot com

Back to Stories?
Back to Bigfoot Encounters Main page
Back to Newspaper & Magazine Articles
Back to Bigfoot Encounters "What's New" page



Portions of this website are reprinted and sometimes edited to fit the standards of this website
under the Fair Use Doctrine of International Copyright Law
as educational material without benefit of financial gain.
http://www4.law.cornell.edu/uscode/17/107.html
This proviso is applicable throughout the entire Bigfoot Encounters Website.