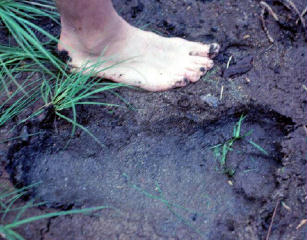 Trinity Alps, California
1977 the Pacific Crest Trail
I hiked the Pacific Crest Trail from the Mexican border to Canada, April 2nd through Oct. 11, 1977.
When I got in the Trinity Alps, I feel I was followed for several hours by an animal. I camped by a creek in the late afternoon and was cooking dinner on my small Optimus stove. I heard what I thought was music in the distance and low voices.

Though I was several days from any active road it freaked me out enough that I packed up and hike all night north on the PCT (Pactific Coast Trail) on a full moon night in late August, 1977.
All night I could heard branches and limbs breaking on the main ridge above me a few hundred yards up the hill. Then, in the morning I crossed a small creek where there was some huge tracks sliding down into the creek itself and then up the other side. The only track that was clear was situated in the small sand bar. I hadn't seen anyone for three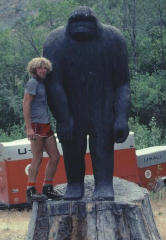 days before or three days after this on trail. There had been no signs of life; if this was a hoaxer, they sure worked hard to do pull it off - and at night?
Photos are of the creature's track and my foot next to track. Also a photograph of me taken in Hoopa, California where my folks met me for 4th of July, 1977.
The last photo (bottom right) is of Rex William's cabin just North of the Feather River, - 6 miles north of the Feather River and the town of Belden, California on the Pacific Crest Trail where Rex built this cabin on his gold claim in the 1950's . He panned the creek each year for 6 months and had an outdoor kitchen.

Old Rex Williams claimed a bigfoot would come by every few years. (He had many bear stories and a few local bears that were a pain, but the bigfoot would hit only every few years) Rex was 68 years old in 1977 and lived in Salem, Oregon during the winter.

I have not seen a bigfoot, but do believe they are or were around. I have not seen anything since that august of 1977 and do a ton of backpacking. Good luck and nice web site.


I thought I would share this.
Monte Dodge


January 07, 2003
Bigfoot Tracks located 1977
Trinity Alps, California.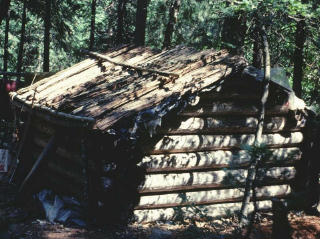 Back to Stories?
Back to What's New?
Back to Newspaper & Magazine Articles
Home/Main












Portions of this website are reprinted under the Fair Use Doctrine
of International Copyright Law as educational material without benefit
of financial gain. http://www4.law.cornell.edu/uscode/17/107.html