By John McGill, Glacier Reporter Editor, March 1, 2006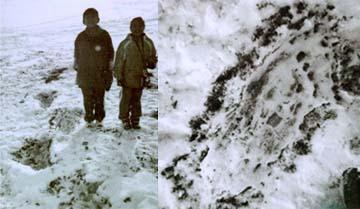 Photo: At left, Bruce Schildt's kids stand near a line of tracks their father believes might belong to Bigfoot. The tracks were discovered Jan. 1, when the elder Schildt notified Blackfeet Fish and Wildlife and had them investigate. The best track is the one shown. Schildt reports the tracks are about 18 inches long and 10 inches wide, and the stride is around 39 inches. There were 30 or 40 tracks, said Schildt, including one very clear print.

"I took my kids for an outing on New Year's Day," said Bruce Schildt who lives near Kiowa camp in Blackfeet country. "I took them up Cut Bank Creek to play.

We were on our way home, but we drove up toward the mountains up by Grandpa's Lake. Toni Rae found a footprint, and we came back and took pictures and took them to Fish and Wildlife and they checked it out."

Schildt's kids had discovered a line of 30 or 40 inch large tracks in the snow. "The footprints looked like barefoot human footprints, but they were about three times as big," said Schildt. "They were frozen in the mud up there."
Blackfeet Fish and Wildlife Director Gayle Skunkcap said his department has received telephone calls "from Kiowa camp to Cut Bank Creek," asking about the possibility of Bigfoot living in and around their homes.

"There are a lot of trappers out with bear track snowshoes," he said, noting the particular style of snowshoe is much smaller than the generally long devices used in the past. "There's a lot of pothole lakes up there, and trappers using bearpaws, but we take all calls seriously and we investigate."
Skunkcap said most of the calls he'd received came in a week or more after tracks were seen, so a definitive verdict has been difficult to reach.
"I've never seen an official document as to whether Bigfoot exists or not," he said, "but I've also not seen an official document saying there's ever been any injury to anyone by a Bigfoot."
Of the tracks discovered by Schildt, Skunkcap said only one looked like it might come from something unusual, but his department is taking no chances.

"People are calling and asking if I see one should I shoot it?" he said.

But shooting is likely unnecessary, said Skunkcap, since no record of an attack on any person has ever been recorded. But also, people should consider what they might be shooting at.
"I'd say if you see one don't shoot because if it's someone playing a practical joke, you could wind up hurting somebody," Skunkcap said
The Glacier Reporter
Browning Montana March 2, 2006

Back to Bigfoot Encounters Main page
Back to Newspaper & Magazine Articles
Back to Bigfoot Encounters "What's New" page

Portions of this website are reprinted and sometimes edited to fit the standards of this website under the Fair Use Doctrine of International Copyright Law
as educational material without benefit of financial gain.
http://www4.law.cornell.edu/uscode/17/107.html
This proviso is applicable throughout the entire Bigfoot Encounters Website.