From: Vance Orchard




To: Bobbie Short




Sent: Thursday, January 22, 2004 6:23 PM




Subject: Rambler to the Times column (unfinished)





(What are your thoughts, Bobbie?)

Bigfoot Doesn't Hibernate!




From the files of the late Vance Orchard, Walla Walla, Washington

Bigfoot tracks in snow on Scenic Loop Road.




Photo courtesy Brian Smith





In case you've wondered …Bigfoot does not hibernate around here. (Here meaning the Blue Mtns of Walla Walla, Washington State.)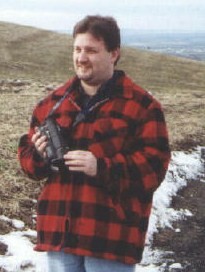 We have photo evidence of "thousands of" its tracks found last week (Jan. 13, 2002) near the top of Scenic Loop Road by Brian Smith. One bad aspect of the trackage is they were apparently made a few days or maybe a week before Smith came upon them on his routine Bigfoot patrols. Melting of the snow dulled the outline.

There remains some evidence of toes at the front of the big prints, though, he said. Tracks seemingly were of a single individual. They were 19 inches long, indicating further a fairly sizable creature, since most tracks reported over the years here are in the 14-16 inch range. Smith put the tape measure from toe to toe of some prints and came up with a stride length of some 60-65 inches, more evidence of a pretty big one.

Returning to the scene later in the week, Smith said melting had practically obliterated the tracks. He also

said the tracks indicated the Bigfoot had come out of the Mormon Grade area but stopped short of going beyond the Scenic Loop road. "I followed the tracks for about a mile but it became pretty foggy, so I came back," he noted. "But, there must have been thousands of the tracks."

This finding of Bigfoot trackage in the snow is not the first incident reported here of these creatures apparently moving about during the winter months when there was snow on the ground.

I recall one report of the huge footprints found in snow two feet deep up near the top of Tiger Canyon Road a few years back. In another instance, an airplane pilot once reported seeing a long line of tracks in deep snow east of Table Rock. The more than a thousand Bossburg tracks are another example of snow tracks. The Bossburg incident is here: http://www.bigfootencounters.com/articles/bossburg.htm

This Scenic Loop Road trackage reminds of the several miles of tracks found in the same vicinity in January of 1995. These also came out of the upper Mill Creek Drainage region, possibly some Bigfoots which possibly had been "spooked out" of the area by the helicopter logging going on at the time. The tracks were first found right at the top of the grade, where they had crossed an open area frequented by beer keg parties. They veered off and back to the Mill Creek Road below, coursing diagonally through an open field, then down to the Lyons place before turning to go up the Meiners Road and thence back into the mountains.

The oddity of the trackage was the fact there were three sets of tracks … i.e., three Bigfoot, one track measuring 16 inches and the other two smaller. To some of the investigators at the time, the three tracks indicated proof that a "family" of Bigfoots had been making this their home territory.

It is pretty easy for me to drift from the recent report of trackage by Smith to tell readers about a new book about our elusive creature, "Raincoast Sasquatch." Author of this fine book is Rob Alley, who readers of my second Bigfoot book will remember as the artist doing the cover for the book. Alley once lived in Milton-Freewater and that is where we first met. He was a skeptic when he first heard of the creature but finding a 16-inch footprint started him on the way to research which has led to this book, describing the animal in settings far removed from mankind, the region from SE Alaska, British Columbia and NW Washington.

The bulk of his book consists of the many stories he has recorded from this territory, and they represent a wide range, a range that should prove of much good reading for believer or skeptic. But, it is the conclusions drawn from this and anything else said that seemed pretty pertinent.

It is certainly possible for a primate as large as the Sasquatch to exist. There is at least one extremely large hominid … known as Gigantopithecus, which, according to physical anthropologists, survived from 7 ½ to at least a million years ago.

The Native folklore of western coastal North America has numerous names and descriptions of just such a large, nocturnal, hair-covered, and human-like being said to inhabit the forest of the Northwest.

There exists a body of documented reports from individuals on the B.C. and Alaskan coasts, among other areas, of the existence of large, hair-covered hominids.

Larger-than-human tracks displaying a typical shape with calloused soles, wide heels and no claws or human arch have been found over a broad area of the Pacific Northwest and elsewhere in North America, often in association with sightings, unexplained vandalism or, on occasion, vocalizations of unusual volume and form.

If you seek more information about the Sasquatch (or Bigfoot) a read of Alley's fine book will more than fill the bill. http://www.hancockhouse.com/products/raisas.htm

The subject of bigfoot/sasquatch is coming of age, so to speak, and is getting the serious attention it has long deserved.

Findings made locally by researcher Brian Smith also indicate our own region is getting recognized (or should) as a prime "home "of the hominid called "Sasquatch."


- ---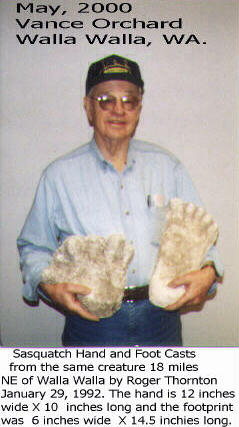 Vance Orchard (1917 – 2006) was born in the little ghost town of Orin, Washington, south of Colville, Washington on December 26, 1917; his sudden death in January 2006 came as shock and surprise to those of us who corresponded with him regularly. I recorded & shared a bit of jazz piano with him and the love of family throughout the illness of his wife and her passing. If Vance knew his passing was imminent, he never let on - Vance was stoic, just the best friend ever with heart the size of a football ! Vance attended Washington State University and has written extensively about the Northwest since 1935. He is the author of many fascinating articles and books including: "Waitsburg: One of a Kind," "Just Rambling Around Blue Mountain Country," "My Life on the Dry Side of Oregon and Washington," "The Walla Walla Story," "Bigfoot of the Blues" in 1993 and "The Walla Walla Bigfoot" in 2001, a recap of Bigfoot in the Blue Mountains of Washington…. he knew they existed, he knew where they were. A gentler, more thoughtful man there never will be… Bobbie Short, January 2006





This letter found & uploaded September 15, 2009

Back to stories
Back to Bigfoot Encounters Main page
Back to Newspaper & Magazine Articles
Back to Bigfoot Encounters "What's New" page



Portions of this website are reprinted and sometimes edited to fit the standards of this website
under the Fair Use Doctrine of International Copyright Law
as educational material without benefit of financial gain.
http://www4.law.cornell.edu/uscode/17/107.html
This proviso is applicable throughout the entire Bigfoot Encounters Website.