I was on vacation in the North Cascades National Park of Chelan County, Washington in September of 2006 and for most of my 2 week vacation I went hiking.
On Sept. 9th I drove out to the trailhead for Cutthroat pass near Rainy pass off the North Cascades Highway RT 20. The location of the "sighting" is basically at the crest of the Pacific Crest Trail, a very popular trail for hikers going south to Stehekin at the north end of Lake Chellen, which is a long/many days hike.
I started my hike late around 1pm and started up the trail and hiked through forest for awhile and then the trail opened up into beautiful meadows with incredible views of the valley and forest below. I continued on until about 4pm and decided to turn back down the trail to return to the trailhead before nightfall.
Along the way up and most of the way down I didn't see or hear anything it was very quiet. I did however pass a half dozen or so other hikers at certain points on the trail.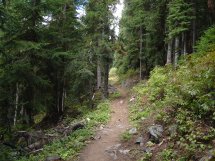 As I descended down into the forested area of the trail it was getting darker as dusk was setting in.
I was aprox 1/2 mile from the trailhead when something caught my attention. Aprox 100 yards ahead of me I believe I saw a reddish brown bigfoot cross the trail heading up the mountain. The sighting was only an instant maybe 2-3 seconds but it was long enough for me to notice fur, its color and a long arm swaying. I couldn't see its head or lower legs because of tree branch obstructions. I stopped for a moment to gather my thoughts and then continued to hike thru the area hearing and seeing nothing.
When I got down to the trail head I sat in my car for quite awhile amazed at what I had just seen. I use to always scoff at reports where people would say the sighting was only a second and they had no time to take a picture or even think.
What I got out of this is that they seem to be stealthy, quiet and do not wish to be bothered. I'm sure this animal knew I was there before I was aware of its presence, it just continued on its way as did I.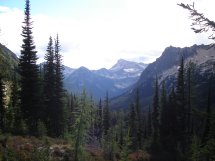 Included are two pictures I took of the trail and forest area near where I had the sighting and a picture of the valley.
Also by no means did I get lucky on this one hike. I hiked almost everyday in different locations for 2 weeks with no signs of anything bigfoot related.
Hope this will be of interest to your readers.