This rugged canyon on the San Gabriel Mountains' northern side is a sort of Bluff Creek South. The area is believed to be the home base of southern California Sasquatches who have terrified hikers and homeowners in the San Gabriels and the Antelope Valley.
These creatures have been rumored to exist in the southern California back country for many years. During Spanish colonial times, Indians told Spanish Padres of the hairy giants who supposedly lived near certain dry arroyos. In 1876, white hunters spotted an apelike beast roaming the mountains near Warner's Ranch, which is now known better as "Warner's Spring" area in San Diego County back country, California.
But southern California's real Sasquatch epidemic hit in the mid-1960's. In 1966, newspaper reports told of a girl pawed by a seven-foot-tall, slime-covered beast in the Lytle Creek wash, north of Fontana, California. A few weeks earlier, two boys hiking in the wash had seen "an ape in a tree" there. And in Quartz Hill on the west end of Antelope Valley, two young men told Los Angeles County Sheriff's deputies that they had seen a dark giant biped silhouetted against the sky on a hill.
Such reports tantalize and perplex Sasquatch hunters. They had concentrated their search for the creature in the rugged wilderness of the northwest. It seemed incredible and more than a little disturbing that the big ape could be lurking on the outskirts of Los Angeles.
Hunters picked up the southern California Sasquatch trail in Big Rock Canyon in 1973, a year in which huge apelike creatures were spotted all over Antelope Valley. Frightened homeowners and frustrated lawmen were never able to capture any of the beasts, and believed that they hid out in the neighboring San Gabriel Mountain. Sasquatch expert Ken Coon hired a plane, flew over the mountains, saw forested, creek-fed Big Rock Canyon, and guessed that the wild mountain valley was probably the Sasquatches' Los Angeles County lair.
And sure enough, the beast turned up there. On April 22, 1973, three young men from the San Fernando Valley saw one near the Sycamore Flats Campground. The three were riding in a pickup truck at about ten p.m. when an eleven foot Sasquatch jumped out of the bushes and chased the truck for about twenty seconds, its long arms swinging in front of its chest.
The boys reported the incident to the sheriff's office in Lancaster, California and went straight back to Big Rock Canyon .There they located the spot where the big ape had appeared and were amazed to find hundreds of huge footprints along the road, some of which they later preserved in plaster of paris.
Soon hunters were scouring Big Rock Canyon for the three-toed Sasquatch and more sightings and track casts rolled in. Something left twenty-one-inch tracks with a twelve-foot stride at South Fork Campground. Sasquatch hunter Margaret Bailey saw a huge figure in the moonlight at Sycamore Flats. Then inevitably, reports tapered off. Once again, the hairy giants retreated from public view and headed back to whatever strange world they inhabit.
They were seen around Big Rock Campground, at the top of the canyon, one more time each in 1974, 1975, and 1976. William Roemermann, who had become Big Rock Canyon's answer to Roger Patterson, made the last two sightings. The sasquatch was last seen in the region at Devil's Punchbowl County Park a few years ago, when two girls and their horses were scared senseless by an apelike monster. Since Devil's Punchbowl is just west of Big Rock Canyon, it is possible that the creatures are still living in the area and might make a comeback before long.
- ---
Excerpt taken from "Weird California" a publication by Greg Bishop, Joe Oesterle and Mike Marinacci.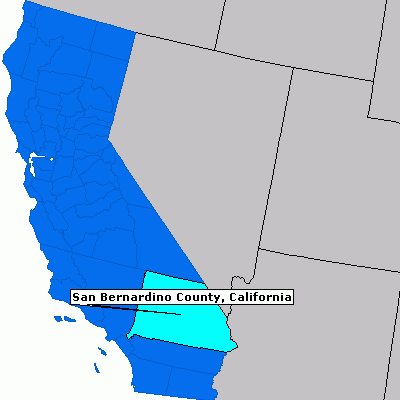 Back to Stories?
Back to Bigfoot Encounters Main page
Back to Newspaper & Magazine Articles
Back to Bigfoot Encounters "What's New" page





















Portions of this website are reprinted and sometimes edited to fit the standards of this website
under the Fair Use Doctrine of International Copyright Law
as educational material without benefit of financial gain.
http://www4.law.cornell.edu/uscode/17/107.html
This proviso is applicable throughout the entire Bigfoot Encounters Website.