The image of an alleged skunk ape previously shown on this page
and published widely in the Naple News, Florida, was ordered
"removed" by Judy Caseley and her lawyer. It appeared to be
an ape costume similar to this one...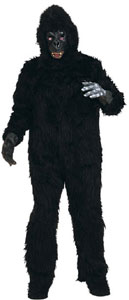 Naple News, Florida: Thursday, October 19, 2006 -- During its brief, sporadic emergences from the wilds of Southwest Florida, the skunk ape has a habit of showing up just long enough to get its picture taken.
Each new image of a blurry biped reinvigorates an old debate.

Is there really a Bigfoot in the Everglades or is it just a prankster with a gorilla costume and a lot of patience?
Memo to skeptics: One of your own has switched sides.

All it took for Judy Caseley to transform into a believer was to see the skunk ape for herself — twice. During the second encounter, also witnessed by her sister, Caseley managed to snap a few pictures, one of which is now on display at a museum in Everglades City.
The photograph was taken about five years ago on a hot summer day — in July, if Caseley had to guess — on Loop Road in Big Cypress National Preserve.
In it, a creature strongly resembling a gorilla appears to stride casually on two legs through a field of thigh-high grass on the edge of a cypress forest.
Harsh shadows generated by the sun being directly overhead obscure the humanoid creature's eyes and most of the details of its torso. The body appears to be covered by bushy, brown fur except for the face and the left "paw," which is bare up beyond the wrist as if it were wearing a rubber glove.
After Caseley got the pictures developed, she did what any reputation-conscious person might have done — she hid them away.
"I didn't want people to think I was crazy," said Caseley, who was a fifth-grade teacher at Everglades City School at the time and has a master's degree in elementary education.
"People are like, if they don't see something they don't believe it. I can understand that because I didn't totally believe in it."
Caseley swears she isn't joking about her experiences with the skunk ape. She hasn't manipulated the picture. And, yes, she acknowledges the story sounds too strange to be true even when it's coming from her own mouth.
Skunk ape sightings, though rare, have been reported throughout Florida for more than six decades but never have been verified scientifically. Descriptions of the animal match the one in Caseley's photo: hulking, part-human, part-ape.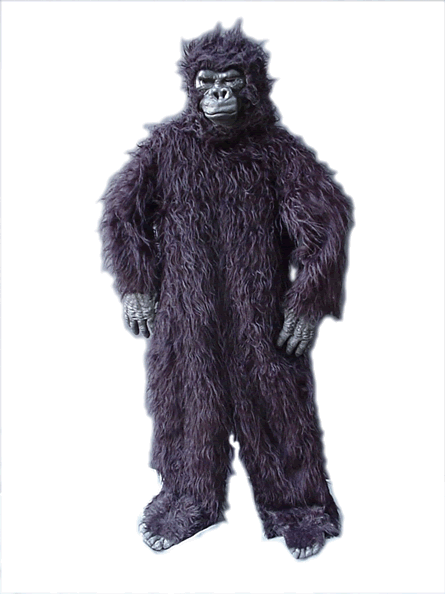 The legend inspires jokes, mostly, like this one from a biologist who was shown Caseley's photograph: "It looks like she got a good picture," said Larry Richardson of the Florida Panther National Wildlife Refuge, adding a comedic pause, "of a guy in a gorilla suit."

(<-- Look-alike costume worn by figure in the Naple News article)
Biologists fly over Big Cypress three times a week to track panthers. Dozens of cameras equipped with motion-detecting sensors snap pictures of wildlife throughout South Florida. It is unlikely, bordering on impossible, that a creature standing 7 feet tall would escape the notice of credible observers for so long, Richardson said.
"This is a species that needs protection," said Dave Shealy, a campground owner in Ochopee who is perhaps the skunk ape's biggest advocate. "It's no joke."
Shealy runs what he calls the Skunk Ape Research Headquarters at the campground and sells T-shirts emblazoned with the ape's image and DVDs that bring the legend to the small screen.
The creature in Caseley's picture appears to be a skunk ape, Shealy said, "but I don't want to make presumptions. I want facts." To get the facts, Shealy plans in April to head to the spot where the ape was spotted to look for tracks and signs of bedding.
Caseley, 49, has all the evidence she needs.
The New England native owned restaurant and food brokerage business in Connecticut before moving more than a decade ago to Chokoloskee, an island on the edge of Everglades National Park.
There, she pursued teaching and nature photography, which so far has earned her several awards. She gave up teaching to run ecotours on her boat, a venture that put her into closer contact with the wilderness that drew her to the southwest corner of Florida.
Like many newcomers, she grew familiar with the rumors about a large, odoriferous ape that prowled Southwest Florida's vast woods, but she didn't put much stock in them.
That changed one afternoon in the late-1990s. Caseley was sunbathing alone on a beach on Cape Sable when she caught a long look at a skunk ape. The creature was partially hidden behind some brush and, to her amazement, spoke in a guttural voice.
"Cheetah-tom-oh, cheetah-tom-oh, cheetah-tom-oh," the creature said over and over again.
Frightened, Caseley fled on her boat. But she returned a few weeks later and found footprints in the sand where the skunk ape had been standing.
A few years later, she happened to have a Nikon camera with a 300mm telephoto lens and a witness to back up her claim. She and her sister, Janet Meeker, had stopped along Loop Road where Caseley hoped to capture a panther on film.
"I just saw this thing across the field on the edge of the woods," said Meeker, who lives in Foxboro, Mass. "I had never heard of a skunk ape before. ... It looked real to me where I was."
Meeker jumped inside the car, pleading for Caseley to do the same. This time, Caseley stood her ground as the dark figure plodded clumsily through the brush.
Assuming what Caseley and her sister saw wasn't something they imagined at the same time, could it have been someone in a costume? Caseley doubts that because it was extremely hot that day. Furthermore, it would be foolish to dress up in an animal costume in Big Cypress, one of the most popular hunting areas in South Florida.
"People out here carry guns," said Shealy, who also dispels the costume theory. "A lot of people would be jumping at the chance to shoot a Bigfoot or a skunk ape. It wouldn't be a safe thing to do."
Caseley hopes to sell 8-inch-by-10-inch copies of the photo for $175.
Recently, the photo went on display with tamer subjects Caseley has photographed, such as panthers, white pelicans and dolphins. She is one of three local photographers featured in the gallery at the Museum of the Everglades.
Several museum patrons have questioned whether what they're seeing is real, said Martha Schramm, a museum assistant.
"They ask if it is real, and I throw it back at them and ask, 'Do you believe it is real?'" she said. "I'm pretty neutral on that."
- ---
Source: article and photographs were stored © The Naples News dot com, Collier County, Florida.



Back to Bigfoot Encounters Main page
Back to Newspaper & Magazine Articles
Back to Bigfoot Encounters "What's New" page



Portions of this website are reprinted and sometimes edited to fit the standards of this website
under the Fair Use Doctrine of International Copyright Law
as educational material without benefit of financial gain.
http://www4.law.cornell.edu/uscode/17/107.html