In and around Coos County, Oregon there were many accounts documented from early1800's into the 1900's of a hairy, mean rock-throwing monster that harassed miners and prospectors near Myrtle Point and Thompson Flat.

The creature was also termed the "Thompson Flat Monster."

Many accounts are filed in the historical society and published in the Lane County Leader in Cottage Grove Oregon; one dated April 7, 1904 called it the "Sixes Wildman."

In Cottage Grove, Oregon, The Lane County Leader News described the creature as "a reality, something after the fashion of a 7- foot gorilla with broad shoulders, unlike anything else either in appearance or action.

The creatire can outrun, out jump anything else that has ever been known and not only that, but the seven foot tall creature could throw rocks with wonderful force and great accuracy. It had broad hands and feet and his body was covered by a prolific growth of hair. In short, he looks like the very devil."

(Citation: Oregon Journalist Maurice Stanton, 1996 in Seaside, OR)
Lane County is located mid-Oregon towards the west coast - map below...
Additional information, same region: http://www.bigfootencounters.com/sbs/myrtle.htm

Map: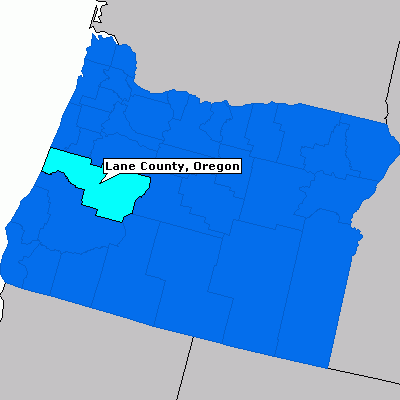 Back to Bigfoot Encounters Main page
Back to Newspaper & Magazine Articles
Back to Bigfoot Encounters "What's New" page





















Portions of this website are reprinted and sometimes edited to fit the standards of this website
under the Fair Use Doctrine of International Copyright Law
as educational material without benefit of financial gain.
http://www4.law.cornell.edu/uscode/17/107.html
This proviso is applicable throughout the entire Bigfoot Encounters Website.