37 years after snapping photo, 'Bigfoot talk' gets man's goat...
By Bud Kennedy June 8, 2006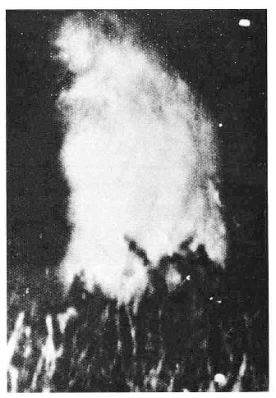 Photo: The man who took this 1969 photo of the (Texas) Lake Worth Monster now laughs at the idea. Photo is © Allen Plaster
The Lake Worth Monster lives on in a grainy 1969 photo.
To some hobbyists, it's proof that our "Goat-Man" of legend was Texas' own Bigfoot.
But the man who shot the photo now says talk of a swamp beast is "silly."
The fleeing "monster" looked more like a prankster with a fur or rug, Allen Plaster, 59, of Fort Worth, says.
And the "Goat-Man" should be glad that Plaster shot only a Polaroid. "That place was crawling with people with guns," he said. "That was really stupid."
Until this week, Plaster didn't know that his 1969 snapshot is on Web sites and in a new San Antonio museum exhibit, "Bigfoot in Texas?"
For two months that summer, he and the rest of Fort Worth were swept up in monster fever.
When one motorist told the Star-Telegram that a 7-foot-tall half-man, half-goat leaped onto his car, and another man said he saw something hurl a tire 500 feet, hunters and curiosity seekers descended on Lake Worth along what is now Shoreline Drive facing Greer Island.
Police later blamed teenage pranksters. The owner of a nearby kennel said this week that he was tracking a 40-pound runaway macaque monkey near the lake that summer, which matches some descriptions.
Plaster and a Weatherford couple, all in their early 20s, went to the lake two or three nights a week that summer searching for the "monster" or "Goat-Man" described breathlessly on TV and radio news.
Plaster was driving westbound along the shore late one night when one of his friends -- he would give her name only as Kay -- pointed and shouted, "Look! Look! Look! There it is!"
Something furry stood up in 3-foot-tall weeds on his side of the road. Plaster stopped and reached for his Polaroid, catching the figure running away.
"Looking back, I realize that when we drove by, it stood up," he said this week. "Whatever it was, it wanted to be seen.
"That was a prank. That was somebody out there waiting for people to drive by. I don't think an animal would have acted that way."
At the time, Plaster had become the young owner of some women's-wear boutiques in Fort Worth, the House of Allen. Later, he managed hotels before working 15 years as a bail bond agent.
He hadn't seen the photo in years, he said. He remembers giving the Polaroid instant print -- the only copy -- to Sallie Ann Clarke of Benbrook, who not only saw the monster but wrote a homespun book, The Lake Worth Monster of Greer Island, Ft. Worth, Texas.
Now the photo is everywhere from eBay.com to San Antonio and the Institute of Texan Cultures, where an exhibit open through July 30 reviews the folklore of Texas Bigfoot sightings.
Plaster looked down and shook his head sadly.
"It's strange, the things that happen," he said. "I don't know what gets in people's heads."
Clarke, now 77, said she thinks she has Plaster's original photo somewhere.
She also stuck by her story and said that Plaster now laughs it off out of embarrassment.
"We all saw that thing at the lake that summer," she said. "A lot of people saw it."
Her book describes a "terrorizing monster" with white hair and scales, a 7-foot "goat-fish-man."
"It came out of a bunch of trees in front of 40 or 50 people," she said Wednesday by phone, describing the incident in the wee hours of July 11, 1969, that triggered the months-long search.
"When it screamed, everybody ran to their cars and took off. I didn't take it as a prank, and I don't think too many people did."
By the time Plaster shot the photo weeks later, everybody was either looking for Lake Worth's celebrity Goat-Man or maybe dressed up portraying him.
And in 1969, the Monster wasn't the only thing into weeds.
"If I'd been smoking pot or drinking alcohol back then, I could blame that," Plaster said.
"But my friends were all terribly boring. That's why we were out driving around the lake every night. We were coffee and Dr Pepper people, staying out late."
If you think his photo shows Bigfoot, then you've been drinking something stronger than Lake Worth water. Or Dr Pepper.
- ---
Bud Kennedy's Star-Telegram Newspaper column appears Tuesdays, Thursdays and Saturdays.

Back to Creatures?
Back to Bigfoot Encounters Main page
Back to Newspaper & Magazine Articles
Back to Bigfoot Encounters "What's New" page

Portions of this website are reprinted and sometimes edited to fit the standards of this website
under the Fair Use Doctrine of International Copyright Law
as educational material without benefit of financial gain.
http://www4.law.cornell.edu/uscode/17/107.html
This proviso is applicable throughout the entire Bigfoot Encounters Website.