Four Danbury Men Frightened by a Giant in the Woods
Four Danbury men discovered a gigantic wild man last week in Cotton Hollow, a section of country between High Rock Grove and Naugatuck. They were Jerry Wilson, Howard Bradley, James Durbin and George Howes and were working in that vicinity. On the night of their discovery, they had been spending the evening with friends near High Rock Grove and were returning to their stopping place through the woods, between 11 and 12 o'clock at night.
As they were trudging along a man of gigantic stature sprang up in front of them from among the bushes, and shouted out to Wilson, who was ahead: "How far is it to the next town?"
"Three Miles," said Wilson with his hair standing on end and his eyes almost bulging from their sockets.
Without saying anything more, the giant started off on a wild run and disappeared in the woods and the darkness. All four of the men had seen him however, before he was out of sight, and they wer satisfied that he was at least twice as tall as anyone of their party, and correspondingly as large every other way. They acknowledged to having been pretty thoroughly scared by his sudden appearance.
The next morning they commenced systematic investigations. They went back to the place of their discovery and measured the foot tracks of the giant. They were 18 ½ inches long and 5 ½ inches broad. The heel alone measured 5 inches.
Then they made inquires of the people who lived in Cotton Hollow and were informed that such a man had been seen several times. He was known to be at least nine feet tall and to weigh not less than 500 pounds.
Unless the vision of these men was greatly magnified on that night and unless the people of the neighborhood told them a story to suit the occasion, they saw a character that Barnum & Bailey ought to have to exhibit to Englishmen as a specimen of American products. They are willing to swear to the truth of their statements and are sure that they saw a man who would be a giant among giants.
(C) Danbury News - Original article courtesy Scott McClean
…the article fails to mention clothing or if the giant was hair-covered and it does not mention if the footprints were barefoot or shoed, -and as tall as he was reported to be, I'm not sure an ordinary man of giant stature would have such excellent vision as to negotiate rapid travel in the woods in the dark of night...
-the article is intriguing nonetheless...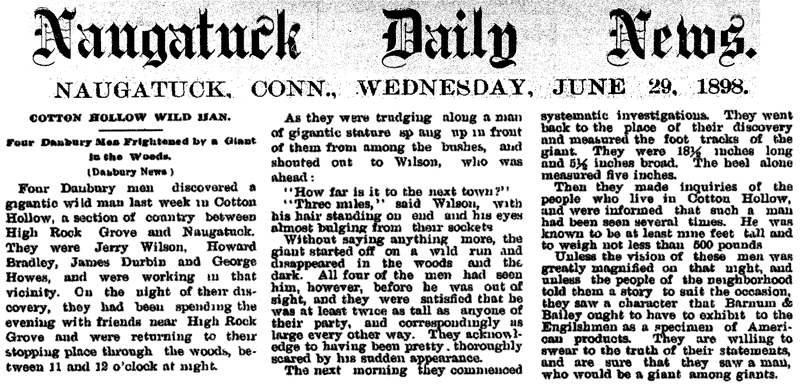 Back to Creatures?
Back to Bigfoot Encounters Main page
Back to Newspaper & Magazine Articles
Back to Bigfoot Encounters "What's New" page


Portions of this website are reprinted and sometimes edited to fit the standards of this website
under the Fair Use Doctrine of International Copyright Law
as educational material without benefit of financial gain.
http://www4.law.cornell.edu/uscode/17/107.html
This proviso is applicable throughout the entire Bigfoot Encounters Website.