Burbank Bigfoot w/photo below:

The "Burbank Bigfoot" was a 7' 4" bigfoot concrete statue built in John Chambers' garage, which was fashioned over a full plaster body-cast of then popular villian-actor Richard Kiel.

The finished outer layer was painted concrete with glued hair inserts. The Burbank Bigfoot was used as part of a float in a parade held in Hollywood, California. It no longer exists.

The very tall actor, Richard Kiel was best known as the scary villain character "Jaws" from much older versions of James Bond movies.

John Chambers was an Academy Award Winning makeup and costume designer in the 1960's Hollywood era best known for his work in "Planet of the Apes," released in 1968.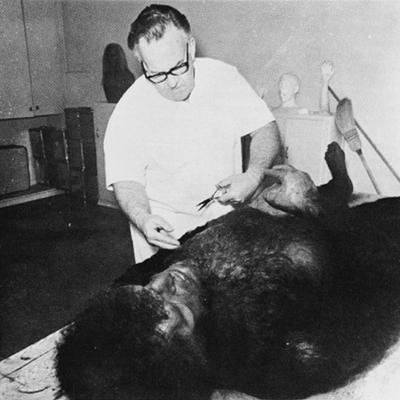 < John Chambers fitting Richard Kiel with the Burbank bigfoot curly-haired costume in his garage...

It was rumored for years that Chambers made the so-called costume-suit worn by the subject in the Patterson film.

After an interview with Chambers, Saturday October 26, 1997, I personally learned from Chambers that he did not know Roger Patterson and did not design any suit for him. In fact the best costume work he was capable of was seen in "The Planet of the Apes," and those costumes bear little resemblence to the subject in the Patterson film. ....Bobbie Short


Citation: Short's audiotaped interview w/Chambers, 1997






Back to Bigfoot Encounters Main page
Back to Newspaper & Magazine Articles
Back to Bigfoot Encounters "What's New" page



Portions of this website are reprinted and sometimes edited
to fit the standards of this website under the Fair Use Doctrine of International Copyright Law
as educational material without benefit of financial gain.
http://www4.law.cornell.edu/uscode/17/107.html

This proviso is applicable throughout the entire Bigfoot Encounters Website.