'Bigfoot' has believers, skeptics. Four swear by what they saw, but Louisiana officials say it's likely the work of pranksters.
Bigfoot has been the talk of the diner in the little western Louisiana town of Zwolle since word got out that Hosea Remedies sighted a hairy monster a month ago.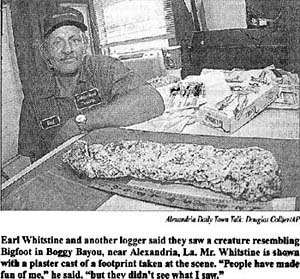 "Customers kept on talking about it and talking about it, so I told them I'd start serving a Bigfoot burger," said Sharon Leone Pearce, manager of Bill and Sissy's Diner.
That lasted but a single day. Some folks around this town of about 1,800, located 60 miles south of Shreveport, didn't find it funny to see their fears about a lurking beast posted as a joke.
Bigfoot is no laughing matter to folks in the bayous of central Louisiana, where there have been four sightings this summer. Some parents are keeping their children indoors.
Sheriff's deputies and wildlife officials say it's the work of pranksters, but logger Earl Whitstine isn't backing off his account. "People have made fun of me," he said, "but they didn't see what I saw."
Mr. Whitstine and another logger said they spotted the creature Aug. 25 in some cypress swamps called Boggy Bayou, near Cotton Island about 20 miles from Alexandria.
That report prompted Larry Satcher, a fisherman, to say he had come across a similar beast in those same woods a few weeks earlier.
Then Mr. Remedies, 74, came forward with his own month-old sighting, 100 miles away from Cotton Island, in Sabine Parish. He said he was mowing his lawn when the hairy creature appeared.
Allen Rivers, Zwolle's assistant mayor, said a couple of his hogs were killed by "something out there that's dangerous, that has some pretty big claws and pretty big teeth."
Capt. Bryan Poston of the Louisiana Department of Wildlife and Fisheries said the hysteria is out of hand.
"As far as I'm concerned, any Bigfoot sighting is a hoax," he said. "I deal in facts, and until I am shown facts, I will not give them any credibility."
Still, hundreds of folks visiting Mary Ward's bait shop in Cotton Island hardly talk about anything else. Her son Joe was one of the loggers who say they saw the legendary creature.
Since then, the Wards have sold tickets and Bigfoot T-shirts to those who stop to gawk at 16 massive tracks on her Cotton Island land.
On Wednesday, LSU lab tests of hair taken from the Cotton Island sighting revealed it was from a horse.
The Cotton Island sightings echo a similar sighting 25 years ago, when Mr. Whitstine's father and a friend made a plywood Bigfoot footprint and laid down giant tracks in the woods. The prank was exposed, but Mr. Whitstine insists this sighting is for real. So does Mr. Satcher: "I know what I saw, and it was no man in a suit."
© 2001 The Dallas Morning News

Back to Bigfoot Encounters Main page
Back to Newspaper & Magazine Articles
Back to Bigfoot Encounters "What's New" page

Portions of this website are reprinted and sometimes edited to fit the standards of this website
under the Fair Use Doctrine of International Copyright Law
as educational material without benefit of financial gain.
http://www4.law.cornell.edu/uscode/17/107.html
This proviso is applicable throughout the entire Bigfoot Encounters Website.