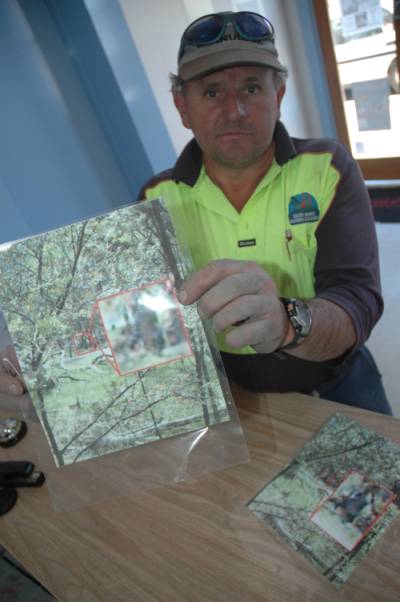 (Photo caption: Paul Compton with one of the photos
that he believes backs up claims of a giant yowie-like
creature living in the Glen Innes District...)

YOWIE hunter Paul Compton has long believed a giant animal lives in the Glen Innes district - and he claims he finally has photos to prove it.
Two days before Christmas, Mr Compton set up a wild view trail camera in an area north west of Glen Innes he has been watching for some time. A week later he returned, finding the camera - triggered by movement - had shot 921 images, including two showing a blurred black figure he claims to be the elusive animal.
"There had been a lot of activity there - rocks moved, broken tree limbs - I'd left a couple of cooked chops in a plastic bag in a tree about eight foot of the ground as bait, and when I returned it had been ripped apart," he said.
Mr Compton estimates the shadowy figure to be about 35m from the camera, and estimates it's height to be about (4 foot six inches) - "I took my son out and got him to stand in the same place and he's about the same height".
He says he believes the animal is a descendant of the giant ancient ape Gigantapithicus, which was in Asia tens of thousands of years ago.
"I've got hair at home that's been identified by Dr. Henner Fahrenbach from Oregon Regional Primate Research Centre in America who believes it to be a higher primate and identical to the type of hair belonging to the (North American) Bigfoot or Sasquatch."
Mr Compton, who has plaster casts of footprints, has become somewhat of an authority on big animals, and in October will be a guest speaker at the three day Mid American Big Foot Research Foundation conference in Oklahoma to talk about big animals in Australia.
Meanwhile, two commercial television current affairs programs are looking at the recently snapped photos.
"There's never been a picture before, this could really put Glen Innes on the map," he said.
Source: Glen Innes Examiner, New South Wales



Back to Stories?
Back to Bigfoot Encounters Main page
Back to Newspaper & Magazine Articles
Back to Bigfoot Encounters "What's New" page



Portions of this website are reprinted and sometimes edited to fit the standards of this website
under the Fair Use Doctrine of International Copyright Law
as educational material without benefit of financial gain.
http://www4.law.cornell.edu/uscode/17/107.html
This proviso is applicable throughout the entire Bigfoot Encounters Website.