Photo caption: Casts of sasquatch footprints -- Bob Gimlin, left, and Roger Patterson of Yakima compare casts they made of footprints they claim were made by a sasquatch with Gimlin's right foot. They claim to have sighted the sasquatch or abominable snow woman in Humboldt County, California and made movies of her. (AP Wire photo)


2A -- Yakima Herald -- Friday October 27, 1967

Seattle (AP) -- There was this thing, see! A giant female humanoid weighing 350 - 450 pounds and standing maybe 7 feet tall all covered with hair except for nose and cheek bones.

From a distance of 90 feet, "she stunk."
Abominable snow woman or sasquatch, whichever name you prefer?

Two Yakima men went through Seattle Thursday convinced they have proof on 25 feet of motion picture film of the existence of the legendary hairy creature.

Roger Patterson and Bob Gimlin were en route to Vancouver, BC, where they will show the film and casts of the creature's footprints to University of British Columbia anthropologists Thursday night.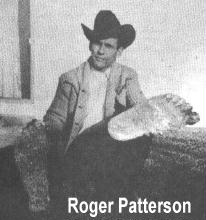 They said they got the pictures last Friday in Northern California in a wilderness area about 75 miles northeast of Eureka, California.

"We were crossing a creek when we spotted her,"Patterson said. "Unfortunately, my horse saw her too and shied and reared."

"I quieted the horse but had no chance to even think about a camera setting. With Bob covering me with a rifle, I just fired away. Some of the film is jerky but about 10 feet is real good."

"She seemed just a bit leery of us rather than frightened," Gimlin said. "She just walked, with strides that averaged about 42 inches, until she was out of sight around a bend in the creek."

"Then, by the increased length of the stride, she must have broken into a run."

Gimlin said he could see the white gleam of the creature's teeth but could not tell whether she was snarling or smiling.

The two men said they had gone to the area after a British Columbia anthropologist, Don Abbott, returned from the same region with casts of huge footprints.
----------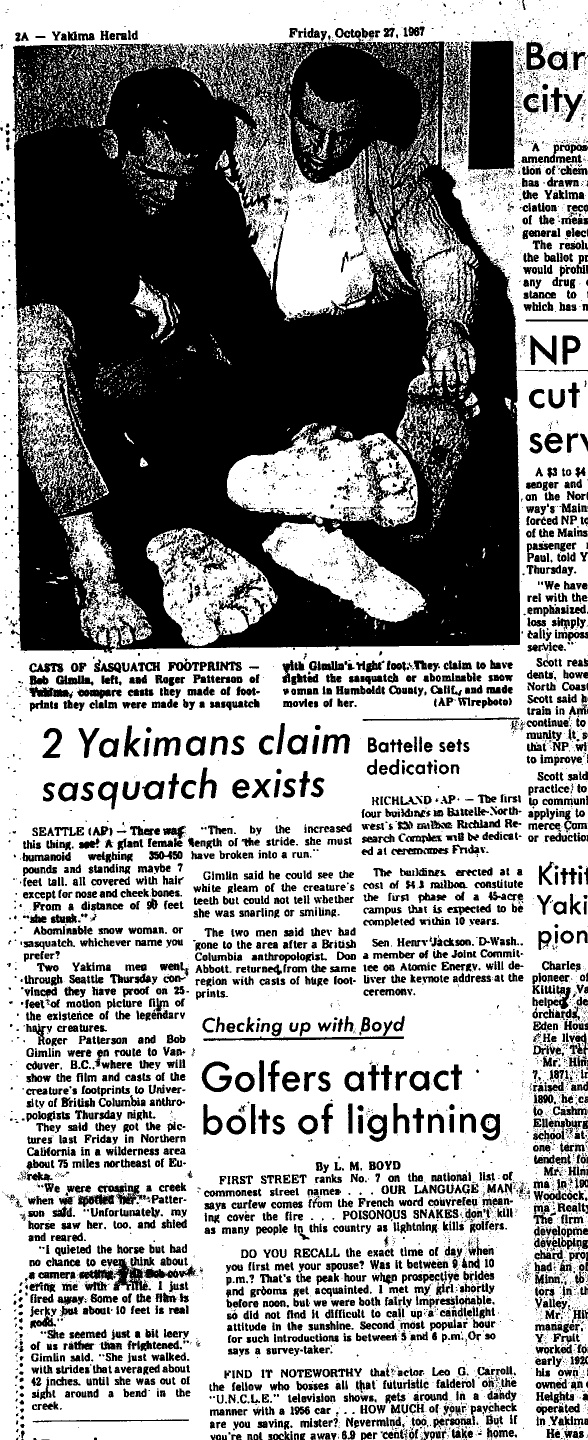 This old article courtesy Roger Knights June 2008


Back to Stories?
Back to Bigfoot Encounters Main page
Back to Newspaper & Magazine Articles
Back to Bigfoot Encounters "What's New" page





































































Portions of this website are reprinted and sometimes edited to fit the standards of this website
under the Fair Use Doctrine of International Copyright Law
as educational material without benefit of financial gain.
http://www4.law.cornell.edu/uscode/17/107.html
This proviso is applicable throughout the entire Bigfoot Encounters Website.