Video is below
October 19, 2012 -- State police are investigating damage done to a northern Dauphin County man's camper at some point over the last month. The suspect is described as large, brown, hairy and walking with a hunched back.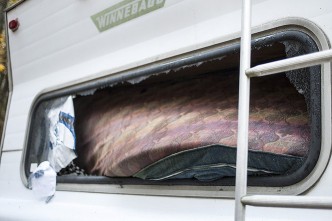 John Reed, of the 400 block of Division Street in Lykens, says a Bigfoot type of creature is responsible for smashing the windows and taillights out of his 1973 Dodge Winnebago.
It wasn't a person. I didn't see any clothes or coat or anything like that," said the 39-year-old Reed, who is a member of Lykens Valley Sasquatch Hunters. "I don't think it was bear. It didn't move like a bear."
The incident took place just after midnight along a dirt road off of White Oak Road on state game lands in Jackson Township, upper Dauphin County.
State police at Lykens issued a press release this morning saying they were investigating it as a criminal mischief complaint.
Reed said he saw something moving outside the camper and turned on an outside light. Moments later, the camper was "bombarded by rocks" coming out of the woods, he said.
"I'm sure it wasn't a group of kids in the woods messing around," Reed said. "I would have seen them or heard them."
Dauphin County District Attorney Edward Marsico Jr. said he was unaware of the incident, but said if a creature is caught, his office would prosecute the alleged Sasquatch.
"We have been searching for him for years," Marsico said with a laugh. "We would be glad to prosecute, assuming the elusive thing is captured."
The trooper investigating the incident said this was the first report of an incident involving Bigfoot in the area. According to the trooper, pending further information the investigation is not being actively pursued.

Video: John Reed 39, of Lykens, says a Bigfoot type of creature is responsible for damage to his Winnebago, located on state game lands in Jefferson Twp., upper Dauphin County. Mr. Reed is a member of Lykens Valley Sasquatch Hunters. 10/19/2012 DAN GLEITER, The Patriot-News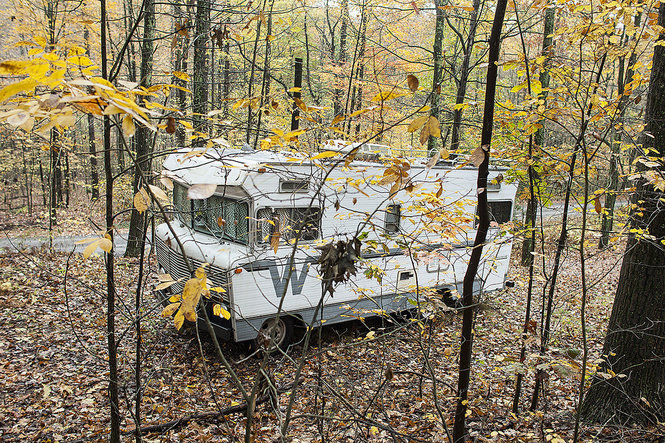 http://www.pennlive.com/midstate/index.ssf/2012/10/lykens_man_claims_bigfoot_dama.html

Back to What's New?
Back to Stories??
Back to Newspaper & Magazine Articles
Home/Main




Portions of this website are reprinted and sometimes edited to fit the standards of this website
under the Fair Use Doctrine of International Copyright Law
as educational material without benefit of financial gain.
http://www4.law.cornell.edu/uscode/17/107.html