Photo: Sam Sherry of Wilpen holds plaster casts of Bigfoot tracks that he found in his area of Loyalhanna Creek.
John Rucosky/The Tribune-Democrat

May 25, 2007 -- Ligonier, PA — Except for a chance encounter one night with a tall, dark stranger, 85-year-old Sam Sherry's name might not now appear on the Internet, in yellowed magazine and newspaper clippings – and in a smattering of books about strange phenomenon.
There was little remarkable about Sherry before that night.
He grew up in the small Ligonier Valley town of Wilpen and became a steelworker. He was drafted, fought the Japanese from island to island during World War II, then spent more than two years in hospitals from war wounds.
He returned home and married a local girl, the former Naomi Swank. The couple eventually moved into the same house where Sam had been born. They raised two children – a son who is a Chicago-area priest and a daughter who lives in Blairsville.
But almost exactly 20 years ago – on May 17, 1987 – Sam met Bigfoot.
And everything changed.
Prior to that, the biggest thing that had happened to him was being wounded during the war.
His wife said he came home from the South Pacific just days before Christmas 1944.
"His mother got a telegram – 'If you want to see your son alive, hurry to Valley Forge Army Hospital,' " Naomi said.
"When they came to see him, his body was like stone. He had lost the use of his arms and legs, and he couldn't talk. He had to learn everything over again, like a baby."
After about two years, he was discharged from the hospital – but he left the service permanently disabled.
"He wasn't able to go out and work, but he did like to go fishing and hunting," Naomi said. "That's what he really lived for."
Sam earned his reputation as a tough bird. He still carries shrapnel in his body and a steel plate in his skull from the war.
In 1967, he was diagnosed with colon cancer and had much of his large intestine removed. Fifteen years later, a doctor expressed amazement that Sam was still alive.
"June 7 will be 40 years," Naomi said.
On the night he met Bigfoot, Sam had gone to fish at nearby Loyalhanna Creek, but soon returned.
"He wouldn't say anything," Naomi said. "For about two days, he kept it to himself. But, he never went down there to do nighttime fishing again."
Sam later visited Ligonier's weekly newspaper office to ask if anyone else had reported a similar encounter, and his story was passed along to Stan Gordon of Greensburg. Gordon had a reputation for investigating strange occurrences throughout western Pennsylvania.
Gordon passed the word in Bigfoot circles; Sam became a celebrity.
He began to look specifically for Bigfoot and to file regular reports about his findings, such as seven sightings in nine years of the same Bigfoot couple – including a white female he named "Snowflake."
His account of finding a baby track sent out a ripple of excitement. Soon, some of the top names in Bigfoot research began to make cross-country pilgrimages to the Sherrys' tiny three-room bungalow.
"We had what we called the Chestnut Ridge Bigfoot Center," Naomi said.
"At times, he had as many as 25 guys here on a Saturday or Sunday. I used to cook them dinners and everything so they could have a meal. Men have to eat."
Meanwhile, Sam had become obsessed with Bigfoot, and spent nearly all of his free time exploring Chestnut Ridge and hauling food up the mountain to supply bait stations. He made dozens of plaster casts of footprints he found and mailed them out worldwide in response to requests.
Continued reports on his findings and theories brought more attention – and visitors.
"There was a guy who came here from Japan," Sam said.
"And, a guy called from Hungary and wanted me to go to the Himalayas with him to hunt the yeti."
A Texas man custom-made an oversized snare that Sam used to try to catch a specimen.
He invested 17 years and a lot of money in the pursuit.
"Not yet, no," Sam said when asked if he had ever made a profit off Bigfoot. "I have to catch him first."
That seems unlikely now.
Sam is all but deaf and has been legally blind for nearly 10 years. He has neither the agility nor stamina to hike the mountains.
His fame has faded in Bigfoot circles, too. Many of his contemporaries have died, and most of today's researchers have moved on to new pursuits.
But Sam still carries food to the top of Chestnut Ridge whenever an old friend such as Duquesne chemistry professor Paul Johnson or Joe Nemanich of Johnstown's West End pays a visit and gives him a ride.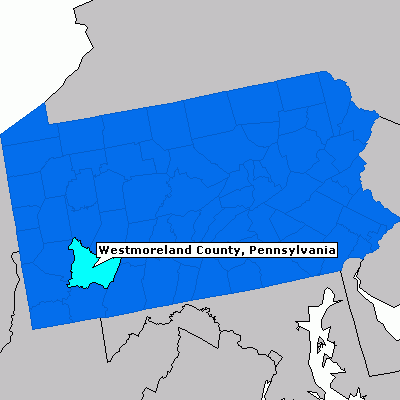 "He's a woodsman," Nemanich said. "He's a living legend. He eats, sleeps and breathes Bigfoot."
Clearly, time is not on Sam's side. He expresses no regrets.
"I had one hell of a life," he said. "If I had it to do over again, I'd do it."
- ---
The Tribune Democrat, Johnstown, PA

Back to Bigfoot Encounters Main page
Back to Newspaper & Magazine Articles
Back to Bigfoot Encounters "What's New" page












Portions of this website are reprinted and sometimes edited to fit the standards of this website
under the Fair Use Doctrine of International Copyright Law
as educational material without benefit of financial gain.
http://www4.law.cornell.edu/uscode/17/107.html
This proviso is applicable throughout the entire Bigfoot Encounters Website.