Waynesboro, PA tracks:

With permission from Eric Altman's Keystone Sasquatch Report Newsletter of the Pennsylvania Bigfoot Society who went on to mention "There are 5 toes, 4 front toes & one side appendage and 3 hair samples being analyzed:"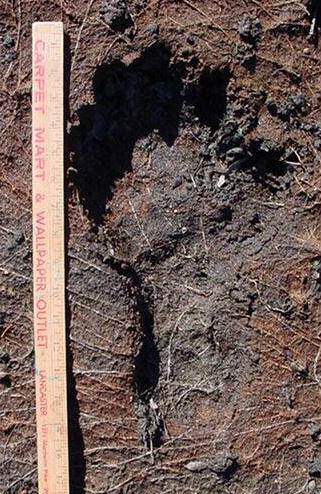 On February 14, 2002 two men traveled to the Waynesboro Reservoir to check out the reservoir after seeing a report on television that the reservoir was dangerously low due to extreme drought conditions.

Upton hiking around the reservoir, they discovered a set of tracks, almost three hundred that walked the length of the reservoir and disappeared into the woods.

Due to the late hour, the men rushed home, phone their mother about what they found. She in turned contacted another organization about the tracks. I was out of town at the time. When I got home and checked email, I discovered that a series of tracks were found in Waynesboro.

I contacted The Waynesboro Record Herald to confirm that tracks were indeed found.

They were found and emailed me a photo of one of the tracks. After the brief phone conversation, I contacted Rick Fisher who along with this fiancé Carol went to the reservoir on Tuesday February 19, 2002.

Rick took over 60 photos of the tracks, the reservoir and the area. He also cast 5 tracks but only two were salvaged due to the extreme muddy conditions.

Another organization got to the site before Rick and destroyed most of the better tracks by casting them. Rick noticed a good number of tracks had been walked over.

Rick followed the tracks into where they may have entered the woods but did not find any other tracks. Rick stated that the tracks measured 17 inches long and about 8 inches wide.

The stride was humanlike; however, the stance between the tracks wider than a humans' stand. After examining the tracks, Rick feels the tracks are genuine.

Although others disagree and state that sneaker impressions are visible in certain photos, I have not seen the photos with "supposed" sneaker prints.

In my opinion the case remains unsolved and will remain open until further evidence is presented. At which time, we will be sure to update you.

Special thanks to Rick Fisher for his investigation and report.

© Eric Altman -The Pennsylvania Bigfoot Society.
With permission.

Back to What's New?
Back to Newspaper & Magazine Articles
Home/Main
Portions of this website are reprinted under the Fair Use Doctrine of International Copyright Law as educational material without benefit of financial gain.

http://www4.law.cornell.edu/uscode/17/107.html
This proviso is applicable throughout the entire website.