April, 1992 -- Caro -- Like UFO's., the legend of Bigfoot has fascinated many but perhaps no one as much as Wayne S. King. King, a 55-year old press operator at Flint General Motors Corp plant is the director of the Michigan-Canadian Bigfoot Information Center.
The two-story center which also serves as King's home in this quiet Tuscola County community is charming with white pillars and living areas tastefully decorated in china and country crafts. The charm ends, however at the stairway to the basement and - Bigfoot Central.
The ceiling is low and the office gloomy. Dim lights cast shadows amid the dark images of pictures and newspaper clippings of Bigfoot. King says he is a Bigfoot/Sasquatch investigator who set out in the late 1970's determined to show that the creature is a myth. Along the way, he became a believer.
"I wanted to prove to myself that the mystery was a hoax," he said. "For three years, I backlogged accounts from Ohio, Indiana, Pennsylvania, Virginia, Michigan and mainly Canada. I found just the opposite and I've seen the animal myself." King said his encounters occurred near Kingston in 1978 and 6 years later outside Caro near Enos Park on M-46.
Kind wants to kill one of the creatures to collect a 6 figure reward to provide a specimen for scientific study and to supply the conclusive evidence that Bigfoot exists. He carries a high-powered rifle and a pistol as backup and he strongly recommends that the average person not venture into the woods around Caro unarmed.
"I've worked on the theory of using a dart gun," he said. "It is impractical because a dart gun isn't accurate over 50 yards and the other problem is the tranquilizer dart dosage."
He also points to picture from, the 1967 Patterson fil,, which was shot in Del Norte County, California. The film shows a large stocky creature with long shaggy hair and a flat face walking across a clearing into the woods.
Accounts of such humanlike animals are found in Indian lore and throughout the world. In the former Soviet Union, the creature is known as Alma, in the Himalayas, it is known as yeti and in some parts of North America and Canada as Sasquatch.
The legend began in California in 1958 when a construction cre4w returned to find its worksite demolished.
Something apparently had tossed two 55-gallon drums over a cliff and overturned a trailer. Huge barefoot prints in the sand were the only evidence of the perpetrator.
King claims to have seen footprints at least 17-inches long, 8-inches wide, tapering to 5-inches at the heel.
He had encased in glass what he insists is Bigfoot fecal matter from Benzie County, MI. and although Tuscola County has recorded 38 sightings since 1965, King has no reports of encounters in neighboring Huron or Sanilac Counties.
The lack of incidents, however, does not mean the creatures are not roaming there, he said. Those who have seen the animal probably have not admitted it, he said, because they fear ridicule.
"This story might shake the bushes so to speak in letting people know they are not alone in their sightings and there is a place to report the sightings," King said.
"I don't need the publicity or the promotion. I have nothing to sell." King and his interest in Bigfoot are mention in several books: "The Bigfoot Casebook," by Janet and Colin Bord; "Bigfoot all over the Country," by Marian T. Place for juvenile readers and "Sasquatch, the Apes among Us" by John Green.
---
Article is from the extensive files of Peter Guttilla, 2010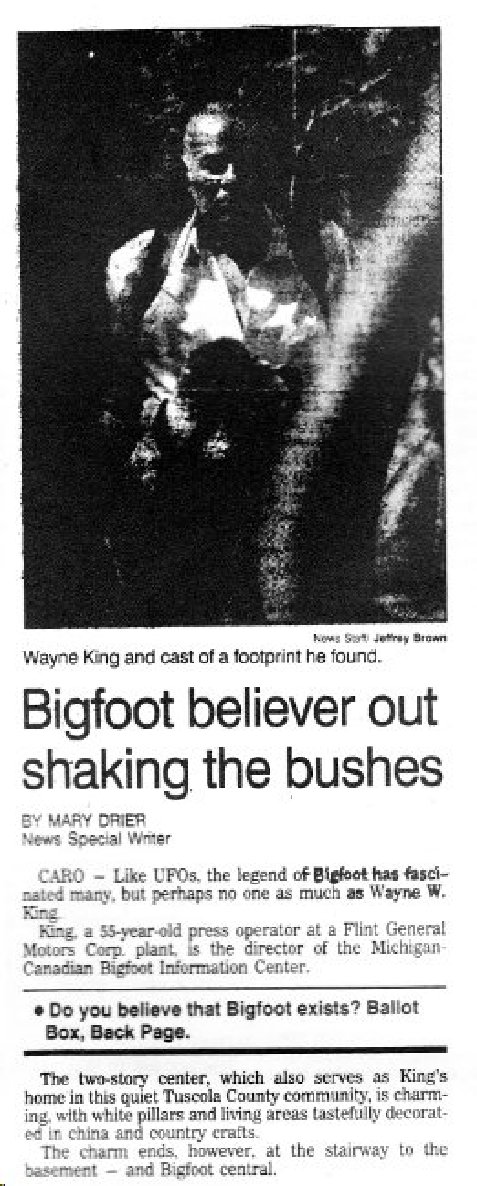 Back to Stories
Back to Bigfoot Encounters Main page
Back to Newspaper & Magazine Articles
Back to Bigfoot Encounters "What's New" page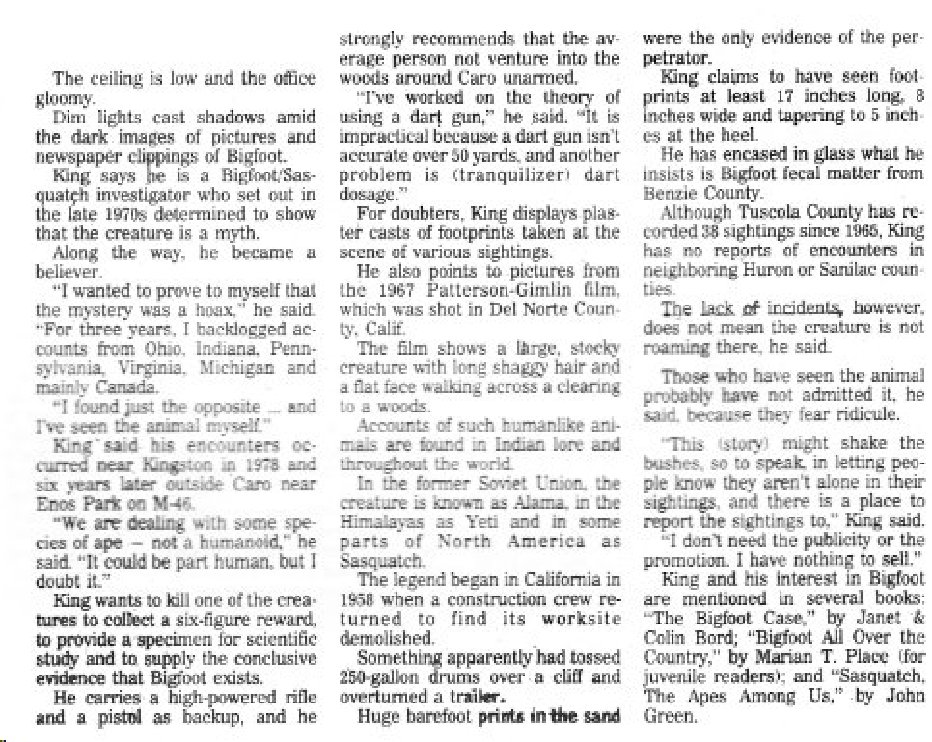 Portions of this website are reprinted and sometimes edited to fit the standards
of this website under the Fair Use Doctrine of International Copyright Law
as educational material without benefit of financial gain.
http://www4.law.cornell.edu/uscode/17/107.html