The topic is Spicer Reservoir located in Tuolumne County, in the Stanislaus National Forest, eight miles southwest of Highway 4 on Spicer Reservoir Road, - Photo caption right: Bob Strain, of Jamestown, uses "call blasts" to try and find Bigfoot in the area. James Damschroder/Union Democrat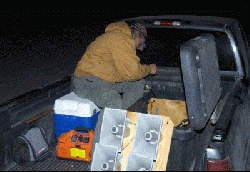 October 3, 2008 -- It was a moonless, silent night near Spicer Reservoir. Vision only reached a few feet into the forest before it was shrouded in darkness.
No frogs were croaking. No campers were murmuring. It was the kind
of quiet where your ears buzz to fill the silence.
And then four speakers, powered by a 500-watt amplifier, blasted a
mix between an elephant's trumpeting roar and an ape's shrill cry through the forest.
The terrifying blast echoed off mountainsides and through the
Stanislaus River canyon. And then complete silence, again, as Bob Strain waited for a return call.
Strain, of Jamestown, was calling for Bigfoot.
Tuolumne County ranks third in the nation in terms of Bigfoot encounters: Thirty-three have been reported, examined and filed away. Calaveras County has had eight reports.
Bigfoot is just one member of the area's paranormal panoply. In the Mother Lode's vast forests and bright stars many unexplainable sightings have been witnessed.
A 100-foot-wide, disk-shaped craft was seen hovering over a canyon near Sonora. A salivating half-lizard, half-dog like creature was seen in a man's backyard.
A few, like Strain, have devoted themselves to explain the Mother Lode's unexplainable occurrences.

Bigfoot calling
Bigfoot reports range from a wildlife biologist seeing a large, upright animal walking near Pinecrest Lake in 1993, to campers hearing strange vocalizations for over an hour near Dorrington — close to where he was — only a few months ago.
"I've got a job to do," Bigfoot-aficionado Strain said. "I have to find evidence"
All summer, Strain, a retired firefighter, has been trying hard to find evidence. Every week he has headed into the wilderness for up to four nights searching, calling and begging for Bigfoot to show his hairy mug.
Wednesday night, he was "call blasting," which is a common method.
Strain uses different calls like a fisherman uses lures — trying each out, hoping for a return call. The described shriek is called the "Ohio Howl." It's one of the clearest recordings believed to be Bigfoot's bellow.
For Strain, it all started in 1975, while peering through his rifle's scope on a hillside in Idaho. Through the scope, he saw what appeared to be a black bear scavenging through the brush.
"But then it stood up and walked away on two feet," Strain said.
The sighting festered like a puzzle missing pieces. He's now searching for the pieces.
Strain got discouraged after about an hour into the starry night.
"I'm a grown man," he said. "I should know better."
And then it came from the hills to the north: a dull but similar call to the one that he'd been blasting, echoed through the forest.
"It's probably a coyote," he said, but he wasn't completely convinced.
"It's possible," he said later about the return call being Bigfoot.
For the next two hours, every pinecone that fell, every twig that snapped and every ruffling of leaves in the forest could have been Bigfoot. But Bigfoot never showed his ape-like face.
"It's like having a million-piece puzzle," Strain said. "And you're trying to put it together."
For the past six years, Strain has been trying to fit the puzzle together. It's been a discouraging summer — he's been out almost every week and heard mostly crickets.
But that night he found one piece of the million-piece puzzle, even if it didn't fit perfectly. The piece seemed to reinvigorate his mission. It seemed to make the days, weeks, months and years devoted to finding something that may be a product of imaginations worth it.
"Someone's got to do it," Strain said.

UFOs
During Marvin Taylor's stay in Sonora from 1972 to 1982, he investigated and reported 28 unexplained flying objects seen in Tuolumne County's skies.
"I'd say there were triple to four-times that many," Taylor said. "We didn't report all of them."
Taylor was a real-estate agent in Sonora and the president of the chamber of commerce for a time.
"There were also excellent sightings in the 1960s," he said. "Most of these people were genuine, honest people. There were a few nuts."
Taylor's fascination started when he crashed his bike while riding with friends in the Oakland Hills at the age of 12. While he was brushing the dirt off, he noticed he was covered by an enormous shadow.
"I looked up and there was a 500 to 1,000 foot wide, metallic, circular craft," he said. "It was vibrating in the air — making a humming noise."
Taylor said he called his friends over, but once they got there the craft had disappeared. His friends asked Taylor where he'd been for the past half-hour — but to Taylor it had been only a few moments.
After years of being told not tell anyone about the experience, Taylor turned to hypnosis to find the missing time.
"The missing time was on the craft," Taylor said. "There was this presence behind me. These beings kept me calm."
Taylor's experience is not rare. According to a Roper poll conducted in 2002, one in seven Americans say they, or someone they know, has had an experience involving an UFO.
Taylor said that he's heard abduction stories from people in Tuolumne County.
The high number of UFO encounters in the area is probably due to the night sky not being blurred by a city's bright lights, Taylor said.
In 1982, there was a spike in sightings. A spate of 10 summer UFO sightings were recorded from "a bright, white light" that momentarily set down on Draper Mine Road, to a fleet of "orange objects" that lit up a canyon near Cedar Ridge.
Taylor said that reports are getting scarcer because strange lights can more easily be blamed on advancing human technology.
"You don't know what's up there anymore," he said.
There has to be something compelling like a craft landing or sighting of actual aliens for it to be reported, Taylor said.
"Anytime we can identify something logically, we'll do that," he added.

History of the odd
Hard-to-explain phenomenon in the area aren't exclusive to UFOs and Bigfoot.
There's the chupacabra — a half-lizard, half-dog like creature spotted several times in Calaveras County in the 1990s.
Several blogs and message boards on the Internet also report one being spotted more recently in the Jenny Lind area.
Paranormal reports in the area date back to the mid-1850s, when a rash of UFO sightings were reported.
It's been hypothesized that the flying objects could have been the work of the Sonora Aero Club. The club was devoted to early experiments with aircraft. The aeronautical notebooks of Charles Dellschau, a draftsman for the club, illustrate intricate, balloon lifted aircraft.
Many said that his drawings, which now are sold for a substantial price, were a crazy man's gibberish.
It seems that the Mother Lode may always be shrouded in mystery.

Contact J. Damschroder at jdamschroder at union-democrat dot com
http://www.uniondemocrat.com/news/story.cfm?story_no=27733


Back to Bigfoot Encounters Main page
Back to Newspaper & Magazine Articles
Back to Bigfoot Encounters "What's New" page


Portions of this website are reprinted and sometimes edited to fit the standards of this website
under the Fair Use Doctrine of International Copyright Law
as educational material without benefit of financial gain.
http://www4.law.cornell.edu/uscode/17/107.html
This proviso is applicable throughout the entire Bigfoot Encounters Website.