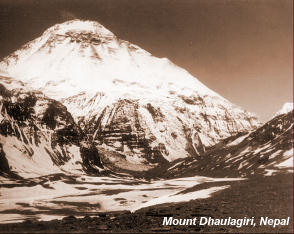 Thursday 7 August 2003 -- TOKYO - A Japanese expedition equipped with sensor-activated cameras and led by an amateur cryptozoologist is heading to the Himalayas hoping to track down the abominable snowman.
Seven climbers will spend six weeks in Nepal trying to capture images of the legendary humanlike creature also known as the yeti, more than 10,000 feet up the world's seventh-tallest mountain, the expedition's leader, Yoshiteru Takahashi, told The Associated Press on Thursday.
Takahashi, a 60-year-old construction company employee who climbs as a hobby, is on his second yeti hunt. He says he found humanlike footprints made by a "rather large animal" in a cave about 15,000 feet up Mt.Dhaulagiri on a previous expedition in 1994.

[Mt. Dhaulagiri, whose name means White Mountain, is the seventh highest mountain in the world. It is an enormous Himalayan massif, located in north central Nepal. It is the highest mountain located entirely within Nepal.]

"I want to find out what made those footprints." Takahashi said. "They definitely didn't belong to a bear."
The expedition, which leaves Sunday, plans to "ambush" the elusive creature, which Takahashi believes is some kind of primate by setting up about 15 cameras that are automatically activated by infrared sensors.
Takahashi described his expedition, which has no backing from Japan's academic community, as "just bunch of climbers" who had all seen unfamiliar footprints on past ascents of Nepal's Dhaulagiri range.
"I don't consider this a mystery," he said. "The yeti exists, I just want to figure out what kind of animal it is."

From yahoo news, Thu 7 August 2003

Back to Bigfoot Encounters Main page
Back to Newspaper & Magazine Articles
Back to Bigfoot Encounters "What's New" page

Portions of this website are reprinted under the Fair Use Doctrine of International Copyright Law as educational material without benefit of financial gain.
http://www4.law.cornell.edu/uscode/17/107.html
This proviso is applicable throughout the entire website.