Photo: Brendan Esposito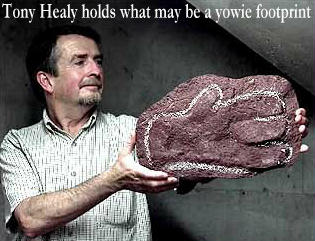 Just because you've never seen a yowie or a bunyip it doesn't mean they're not out there.

The Blue Mountains, for instance, is a "hot spot" for yowies, according to retired surveyor and amateur cryptozoologist Tony Healy. And to prove it, he'll be presenting his case - and the cast of a yowie footprint - at the inaugural Myths and Monsters conference in Sydney today.

He's not alone, though, in his belief that these "monsters" are more than mere myths. The conference will feature speakers covering subjects such as the elusive Wildmen of South-East Asia, the Tasmanian devil, Australia's big cat mystery and much more on the hominoid otherwise known as the yowie, the yahoo or the doolagarl.
The conference, being held at History House in Macquarie Street from 9am to 6pm, is the brainchild of Sydney ghost hunter Ruby Lang, who has had a lifelong interest in the unexplained: "I like to think I have an open mind, but not so open that my brain's falling out."

"Gathering the cream of Australia's cryptozoology crop under one roof, she says, is an opportunity to discuss Australia's cultural heritage, whether the creatures exist or not."

There are so many stories about these creatures," she says, "that you can't dismiss them all. So many people claim to have had experiences or seen them - and they are quite reputable as witnesses - that you have to ask the question, what is it that they saw?

They can't all be hallucinating."Mr Healy, who has roamed the world in his search for "hidden animals" and is now writing a book called The Yowie File, says the case for the existence of yowies is pretty strong.He even he has a good idea what they look like: "They are generally described as being covered with hair, very tall - the average size is about seven foot six inches [2.28 metres] - with hugely broad shoulders and no neck. The head is said to look quite small compared to the rest of it, and it has arms that reach down to its knees. "In about 10 per cent of cases there is also a striking miasma of stench."
© Sydney Morning News, Australia
Source sent in by Dnu Nyugen, Indonesia

Back to Bigfoot Encounters Main page
Back to Newspaper & Magazine Articles
Back to Bigfoot Encounters "What's New" page
Portions of this website are reprinted under the Fair Use Doctrine of International Copyright Law as educational material without benefit of financial gain. This proviso is applicable throughout the entire website at www.bigfootencounters.com