Wednesday, January 23rd, 2008 -- Seeley: According to the Sawyer County Sheriff's Department, two deputies responded to an alleged Bigfoot, or Sasquatch, sighting on Highway 63 just south of Seeley on the evening of Jan. 3.
Since then the sighting has been the topic of conversation in that small community, with multiple reported sightings being called in to the Sawyer County Record office since.
Chief Deputy Tim Zeigle confirmed that two deputies responded to the call, only to find footprints and hair at the site. But "unless Bigfoot was wearing boots," Zeigle laughed, "I think it's pretty much a prank.
"A lady called in and said 'You probably think I'm nuts, but I'm not … I have not been drinking.' She reported seeing a Bigfoot or someone dressed in an ape suit on Highway 63 near Stark Road," Zeigle said. "We sent a couple officers up there and what they found was a set of foot tracks going from the road to the timberline and back to the road and they also found a long, black hair." He affirmed that there have been no sightings since then.
But the story takes a curious turn from there.
According to another reported sighting obtained by the Record, a Wausau man, who wishes to remain unnamed, and his nephew were snowmobiling on a trail just southwest of Seeley when they saw something unusual cross the trail.
"I don't know what I saw, but my nephew and I both saw something very real," he said. "We only saw legs from the hips down as it was caught in the headlights of our snowmobiles. It stepped out of the woods, walking upright, and stepped across the trail right in front of my nephew who was ahead of me 20-30 feet.
"The legs were long (and) covered with long dark hair," he continued. "My first thought was it was a drunk walking through the woods after leaving the Sawmill Saloon, but that makes no sense. We were quite a ways west of the Sawmill and there is no trail or crossing anywhere near there for someone to be walking."
After gunning their snowmobiles past, the two turned around to explore the area and find tracks. But they had not marked the spot with a landmark and were unsuccessful at finding any sign when they returned to the area.
"We saw these legs for only a very brief moment, but again, it was very real," he added.
Following up on the sighting, a number of possible theories have been revealed.
Cindy Ferraro of the Sawmill Saloon said that one potential explanation is that something was roused when the managed portion of the Uhrenholdt Memorial Forest south of Highway OO was cleaned up a few months ago. She said a friend who lives in the Seeley Hills area has reported unusual behavior coming from her dogs lately; they seem to be agitated by something out of the ordinary.
At this point, the only confirmed sighting was debunked by Sawyer County deputies; the rest is just the talk of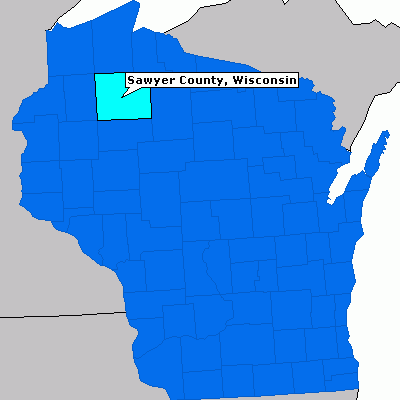 the town.
- ---
Back to Stories?
Back to Bigfoot Encounters Main page
Back to Newspaper & Magazine Articles
Back to Bigfoot Encounters "What's New" page




















Portions of this website are reprinted and sometimes edited to fit the standards of this website
under the Fair Use Doctrine of International Copyright Law
as educational material without benefit of financial gain.
http://www4.law.cornell.edu/uscode/17/107.html
This proviso is applicable throughout the entire Bigfoot Encounters Website.