Photos caption: Joe Rauh, a real estate agent and artist pulled one of his 11-foot-tall sculptures on a trailer. The hands, which can be adjusted according to a clients needs have not been installed.

RANCHITA, CALIFORNIA -- October 12, 2007 -- Joe Rauh, a real estate agent in tiny Ranchita, has spent about 850 hours in his garage constructing two unusual prototypes out of fiberglass and resin.
One is a brown sasquatch and one a white yeti. Each is 11 feet tall, weighs about 300 pounds and can be modified at the buyer's request to talk and have glowing eyes.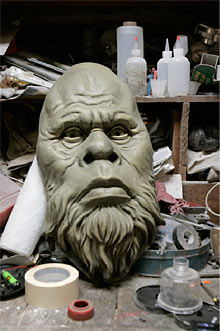 Photo caption: Mark Alfrey, a special effects artist whom Rauh met on the Internet, created the face. Photos by Charlie Neuman, Union Tribune photographer

It's not your usual business venture, and Rauh's not your typical businessman. His hope is that his creations will become popular eye-catching oddities for business owners nationwide wanting to attract attention. "Too big and too ugly to miss" is his advertising pitch.
"The general idea is to draw attention to a business or location. . . . If someone says, 'I want to go to the lodge,' you could say, 'Just go up to the yeti and turn left.' "
Since building the prototypes and storing them outside in his cluttered acreage, the coyotes that routinely are drawn to the place because of Rauh's chickens and goats no longer are a bother.
"They don't come close since I put these up," he said.
Rauh, 56, moved his family five years ago to Ranchita, a windswept community along Montezuma Valley Road west of Borrego Springs.
He took over one of the few businesses in town – Ranchita Realty – and is the guy to go to if you're looking for some rugged semidesert land.
But last year Rauh found himself with some free time. Partly because a large power line might be built near the town, and partly because of the downturn in the real estate market, properties weren't selling well and Rauh starting looking for something to kill the downtime.
Roadsidemonster.com was conceived.
"First, I noticed when driving down the road that only when the subconscious alerts us, do we take notice of something in front of us," Rauh writes on the Web site. "For example, on a two-lane road, many cars pass in the opposite direction, but only when a black-and-white unit goes by do we take notice. I guess the fear of getting a ticket is embedded in all of us. Similarly, when a human figure is near the edge of the road, we take notice to ensure no one runs out in front of us."
Second, the news media have become more interested in entertainment than news, Rauh said, and they give good play to Bigfoot stories.
So he "combined these two phenomenons together and now I am producing the Roadside Monster."
Sasquatch, also known as Bigfoot, is a mysterious creature in folklore that supposedly inhabits remote forests in North America, while the yeti, or Abominable Snowman, are among the names for a similar creature from the Himalaya region of Tibet and Nepal. Rauh said he has invested about $15,000 so far in building his versions of them, and has yet to sell one. The selling price is negotiable, but he imagines it would be about $4,500 per beast.
Rauh insists there's nothing else quite like it on the market, yet the Bigfoot mystique is great, especially in the Northwest and northern states.
Rauh has a computer graphics background and also used to race cars in the 1970s.
"That's when I learned about fiberglass and making body molds," he said. "I used to make very lightweight racing boots and racing flares. I really enjoyed doing that sort of work."
A professional special effects artist, Mark Alfrey, created the face after being contacted by Rauh over the Internet. Rauh designed the rest, including the rounded buttocks, which he said are modeled after former football great Emmitt Smith, a favorite player of Rauh's wife.
The prototypes made their debut at Ranchita Rocks, a rock concert held a couple of weekends ago not far from Rauh's home. Rauh said the monsters' rears were big hits. "Women kept coming up and touching them," he said. "One drunk girl kissed one set."
The monsters are Rauh's interpretation of what the silhouette of Bigfoot would look like.
"It's designed to hold a simple sign in front, which is small enough to not disturb the silhouette, but large enough to be read when someone approaches within 50 feet," he said.
During the long hours of trial-and-error construction, Rauh said, he spent a lot of the time talking to some of the dozens of feral cats that live on his ranch. The cats, he said, earn their food and lodgings by eating mice, which often get into the electrical systems of motor vehicles.
"Mine are the only cars in the area that haven't been damaged by mice, thanks to the cats," he said.
As for the fiberglass monsters, they are his creative outlet, and his hope for a successful business.
"I think I've been a frustrated artist all my life. Between the body work and putting it all together to make the final product, it's been just a real joy of life."
J. Harry Jones: (760) 737-7579; jharry.jones@uniontrib.com
San Diego Union-Tribune, California
Back to Bigfoot Encounters Main page
Back to Newspaper & Magazine Articles
Back to Bigfoot Encounters "What's New" page



Portions of this website are reprinted and sometimes edited to fit the standards of this website
under the Fair Use Doctrine of International Copyright Law
as educational material without benefit of financial gain.
http://www4.law.cornell.edu/uscode/17/107.html
This proviso is applicable throughout the entire Bigfoot Encounters Website.