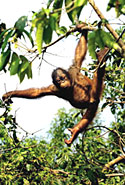 Wednesday September 04, 2002 -- A world-renowned hair expert is on the verge of proving the existence of a "Yeti-like" creature on an Indonesian island. The tale of the orang pendek - or Little Man of the Forest - could become reality if studies into hair samples discovered in Western Sumatra continue to defy scientific analysis.

Hans Brunner, an associate of Deakin University in Melbourne, Australia, has been analysing two hairs which were found by a team of British explorers who followed the trail of a primate which has long lived in the folklore of tribespeople on the island.
Unknown
Dr. Brunner volunteered his expertise after three part-time explorers found unknown hairs and a footprint. Adam Sanderson, Adam Davies and Keith Townley sent the hair samples they found in Western Sumatra to Australia for analysis and the findings have been little short of startling.
No match could be found when they were tested against reference hairs of orang-utan, chimpanzee, gorilla, sun bear, red leaf monkey, pigtail macaque, Malaysian tapir and human.
Dr Brunner still has some checks to run but said: "So far I have found that the two hairs which I have are different from any species which I have compared them with. If nothing comes which looks like the same I would have to say there could be an animal that we do not yet know about."
Creature
The Orang Pendek is said to be a 5ft tall creature with chocolatey-brown, orange hair. In Borneo, the Orang Utan is known as the old man of the forest.
A digital re-print of the footprint found on the expedition was sent to be analysed by Dr Colin Groves, professor of primatology at University of Canberra, Australia.
He has opted not to make his findings public until Mr Brunner releases a scientific paper on the hair analysis but has told Mr Sanderson that he believes it will be "good news".

www.sky.com

Back to What's New?
Back to Newspaper & Magazine Articles
Home/Main

Portions of this website are reprinted under the Fair Use Doctrine of International Copyright Law as educational material without benefit of financial gain.
http://www4.law.cornell.edu/uscode/17/107.html
This proviso is applicable throughout the entire website.