Tenzing Norgay Adventures:
Trekking in the Himalayas of Nepal and Sikkim
Organized by Jamling Tenzing Norgay
Tashi Delek (Greetings from the Himalayas)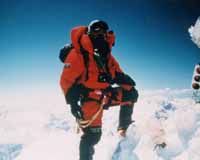 Founded in 1978 by my late father, Tenzing Norgay Sherpa, the first person to climb Mt Everest (along with Sir Edmund Hillary) on May 29 1953, Tenzing Norgay Adventures has been a pioneer of trekking in the Himalayas for the past 20 years.

My father's goal in founding this company was to provide fellow adventurers with safe and unprecedented journeys to the Himalayas.

Today, in keeping with family traditions set by my father and followed by my mother, I now carry on and provide a number of treks and expeditions with the same spirit of adventure and offer several fun-filled and memorable excursions into the Himalayas.

I am very proud that I followed in my father's footsteps to the top of Mt Everest on the 23 May, 1996 with the IMAX Everest filming expedition.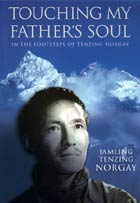 His book "Touching My Father's Soul" may be found here: http://touchingmyfatherssoul.com

Sign up for a trek with Jamling Tenzing Norgay:
http://www.tenzing-norgay.com/

© Jamling Tenzing Norgay



Back to What's New?
Back to Newspaper & Magazine Articles
Home/Main


Portions of this website are reprinted under the Fair Use Doctrine of International Copyright Law as educational material without benefit of financial gain. This proviso is applicable throughout the entire website at www.bigfootencounters.com