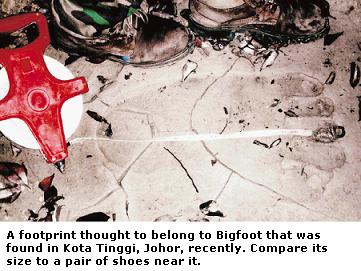 Kuala Lumpur, Malaysia 16 December 06: The Johor Bigfoot is a hoax. This is the view of the Natural Resources and Environment Ministry, which said there was no concrete evidence to back up the creature's existence.
However, the ministry's stand has not gone down well with the Johor state government which is keeping an open mind on the matter.
The ministry's parliamentary secretary, Datuk Sazmi Miah, said no droppings or hair of the creature had ever been found.
He said the state Wildlife Department had been monitoring the jungles of Johor for the past 40 years and there was no firm evidence to prove the creature's existence.
Remote-sensing cameras were also set up in the jungles a few years ago to capture animals' movements and, so far, the only sightings were of known animals.
"If there's truly a Bigfoot, there would have been firm evidence of its existence or the cameras would have captured its image or movements," he told the New Straits Times.
He believed the hoax was perpetrated by certain quarters to generate interest among foreign scientists who were interested in obtaining the jungle's lush flora and fauna.
To a question, Sazmi said eyewitnesses, who claimed to have seen the creature, could have mistaken an ape (mawas) or sun bear for a Bigfoot.
"To date, the evidence has been a so-called footprint.
"Don't tell me that the creature walked on one leg? That's not possible," he scoffed.
Meanwhile, Johor's Tourism and Environment Committee chairman Freddie Long said the state government was keeping an open mind over the creature's existence.
"No one can simply dismiss its existence.
"Our jungles are 248 million years old with numerous species yet to be discovered.
"How could he (Sazmi) make such a sweeping statement?" said the irate Long.
He said the creature's existence needed some time to be verified. "We are very keen to pursue this and welcome researchers and scientists to contact us on their investigations into the Johor Bigfoot."
He pointed out that the Loch Ness monster in Scotland had never been proven, but that did not prevent droves of tourists from trying to catch a glimpse of the creature.
"Similarly, with the Johor Bigfoot, it has created a lot of interest and we have seen an influx of tourists coming in."
http://www.nst.com.my/Current_News/nst/Saturday/National/20061216084259/Article/index_html

Article courtesy Ichiru Uto

Back to Bigfoot Encounters Main page
Back to Newspaper & Magazine Articles
Back to Bigfoot Encounters "What's New" page




Portions of this website are reprinted and sometimes edited to fit the standards of this website
under the Fair Use Doctrine of International Copyright Law
as educational material without benefit of financial gain.
http://www4.law.cornell.edu/uscode/17/107.html
This proviso is applicable throughout the entire Bigfoot Encounters Website.