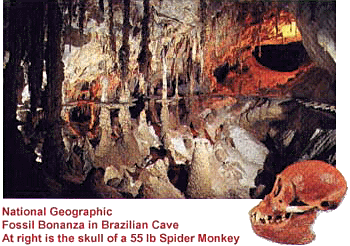 NGS Research Grant: The longest cave in the Southern Hemisphere, Brazil's "Toca Da Boa Vista" turns out to be scientifically spectacular too.

"We recovered thousands of fossils from 30 to 40 different species, mostly extinct mammals," says California Paleontologist Walter Hartwig, co-leader of the first scientific survey of the 60-mile-long cave in the eastern state of Bahia.

Hartwig worked with Grupo Bambui, a caving team that found this skull of a 55-pound spider monkey, more than TWICE the size of spider monkeys today!

(Spider monkeys generally weigh less than 20 pounds on a good day, which leaves us to wonder if De Loy's ape may have been one of these 55 pounders not extinct?!)
They collected bones of large cats, llamas, a 20-foot-long ground sloth, small rodents and tiny bats. Some of the creatures lived in forests and others on the plains or high in the mountains. The absence of any signs of human presence and the variety of habitats suggests environmental changes caused the animals' extinction, Hartwig says.
© National Geographic January 2000

Back to Bigfoot Encounters What's New?
Back to Newspaper & Magazine Articles
Bigfoot Encounters Home/Main
Portions of this website are reprinted under the Fair Use Doctrine of International Copyright Law as educational material without benefit of financial gain. This proviso is applicable throughout the entire website at www.bigfootencounters.com