Just shy of the Canadian Border in Houlton, Maine at the end of Interstate 95 lies a secretive place. Known by few outside Aroostook County there exists an eyesore to many, and a guilty joy of even more. It is there, on Military Street, that one can see the artistic renditions of Santa Claus, dinosaurs, aliens, UFOs, and Bigfoot. Yes this eclectic collection is a loose outdoor museum, created by the owner J. Carr. Although not open to the public per se, the initial view from the road is enough to chance a glimpse if your lucky to fins J. Carr at home. It is the Alien Art Outdoor Museum.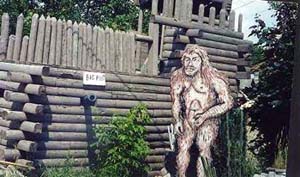 On July 4, 2001, the author, with his wife and his 9-month-old daughter, paid a visit to J. Carr. This was a chance encounter, as pictures were the main interest of the day, pictures with Bigfoot. On that day J. Carr happened to be by, and for the next hour and a half to two hours a conversation over the museum and its reason for existing was presented to the author.
Prior to this finding, I had heard of the museum on a regional television show Chronicle. However, that show did not mention the town, only the county. Other searches came up with nothing. It was by luck then that we had found this little piece of Americana in this rural community of farmers and trade workers.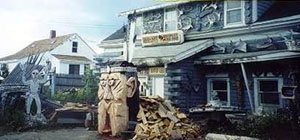 J. Carr, the owner and proprietor, is an eccentric man who lives alone with his dog in the house next to the art displays. In reality surrounded by his art, as even inside the place is decorated. His work is carved from scrap wood, from glued and carved wood into a giant Indian face, to full size totem polls with iron inside to discourage thieves. A UFO on the roof, a walkway around dinosaur set-ups in the back, to a trio of Bigfoot by a rusted out car. Even three actual reindeer. It is definitely not your run of the mill place to see.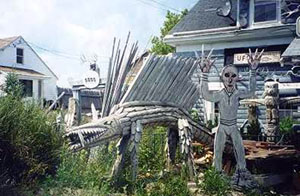 J. Carr is a self proclaimed entertainer and artisan not originally from Maine. He enjoys the quiet and slow pace of life in this area of the country and the freedom to do his work. Although he has never seen a Bigfoot, he feels the stories from the country are enough to create these curious entries (including an anatomically correct male specimen, life sized, kept out of sight in the back). Even dinosaurs he doesn't believe existed. However, he claims numerous alien and UFO sightings and abductions. However, it is his art that drives him. He is striving to create a little Santa's Village, a place for children to walk and play among his art, visit his aliens, his Bigfoot creativity, climb the dinosaurs and pet the reindeer.
It is a place like no other in the East. Set back and unadvertised.
If you ever get to that neck of the woods, and have a few minutes to spare. Swing by and snap a shot of this little charm. You may not necessarily believe or accept J. Carr's views, but his art will bring a smile to your face. It is the quintessential gem of the offbeat in Maine.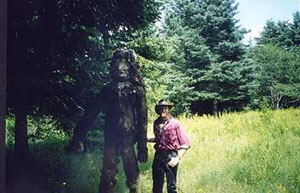 © Craig Heinselman Francestown, New Hampshire.

Back to What's New?
Back to Newspaper & Magazine Articles
Home/Main
Portions of this website are reprinted under the Fair Use Doctrine of International Copyright Law as educational material without benefit of financial gain. This proviso is applicable throughout the entire website at www.bigfootencounters.com