British Columbia News, Monday 2 January 2006

(Photo: Matthews holding a second generation 1958 Bob Titmus Bluff Creek Track)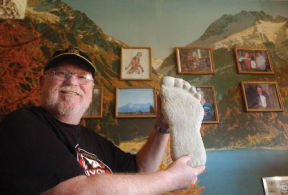 (Black Press) - Gerry Matthews wants the world to know that both "sensible and skeptical" people can be involved in the hunt for the elusive sasquatch.
The Chilliwack man says he's been fascinated by the topic since he was a kid but it took a pivotal discussion with Harrison sasquatch writer-researcher John Green a couple of years ago to set him firmly on his new path.
"It was an inspiration meeting John Green," says Matthews, who calls himself a "newcomer" among bigfoot enthusiasts. He's part
of a trio heading up the West Coast contingent of serious seekers, like Mission-based investigator Thomas Steenburg and Ken Kristian.
Matthews admits to still being somewhat skeptical over what is considered "evidence" by some cryptozoologists and researchers, but he felt a strong need to bring together the key people and report sightings from this part of the continent.
"I think there's some evidence that can't be denied," he says.
"It can't be explained but it can't be denied either. Of all the thousands of reports made, even it one is true, that's really something. They can't all be hoaxes."
As the founder of West Coast Sasquatch, he's been busy almost full-time, uploading searcher interviews, frequently asked questions, artwork and moderating the lively discussion forum on his site at http://www.westcoast-sasquatch.com
"I built the site to be a gateway of information," he says.
"I'm just speaking up for this part of the country. It's so rich in the whole bigfoot heritage."
It all started out as a hobby but it's certainly morphed into more in recent months.
"I could devote almost 12 hours a day to it if I wanted to," he offers. "My wife doesn't know what to think about it, but she see it as harmless and it keeps me out of trouble."
The Internet has scores of sites devoted to the hunt of the famed woodland ape but the retired telecommunications worker says there was nothing significant out there in the way of websites emanating from B.C. That's why he started his own site in March.
"The general public has this impression that we're a bunch of nuts running around in the woods scaring wildlife, and some of them surely are," he says. "But I want to show that there are sensible and skeptical people involved in the search.
"These are people who are immensely curious and believe there's enough evidence out there to warrant a serious looking into."
Plus the Upper Fraser Valley is considered prime sasquatch territory, with famous sightings at Harrison Lake, Chilliwack Lake, Chehalis, Ruby Creek and more. A perusal of the Agassiz phone book provides a gaggle of businesses that have adopted the theme such as Sasquatch Inn, Sasquatch Springs RV Resort, Sasquatch Tours, Bigfoot Campgrounds, Big Food Café and Bigfoot Plumbing and Heating.
"A great many sightings have come from this area over the decades especially on the other side of the river. That's why we'll be concentrating our search in the Harrison Lake area," he said.
The plan is to attack the lake from the water and Matthews hopes to launch a boat next spring.
"What we're hoping to achieve is getting some video on the subject," he says. "Because randomly running around in the woods looking for a creature is ludicrous. It has to be done in a scientific manner."
The goal is to get some video or a sighting that could ultimately establish if the animals are transients or resident to the area. The last reported sighting of a bigfoot creature in Chilliwack was in 1999 in the Cultus Lake/Vedder Mountain area, he said. And Harrison Lake was reported as a site where three of the hairy beasts were seen last year this time, Matthews adds.
"There are lots of questions and very few answers," he says. "I've studied what's out there. There's a lot of bull. That's why I built the website, to put up the material that has convinced me and to add my version, which is accurate if anyone wants to look into it."
For Bigfoot Encounters courtesy Larry Lund

http://www.mytelus.com

Back to Bigfoot Encounters What's New page?
Back to Bigfoot Encounters Newspaper & Magazine Articles page?
Home/Main
Portions of this website are reprinted under the Fair Use Doctrine of International Copyright Law as educational material without benefit of financial gain.
http://www4.law.cornell.edu/uscode/17/107.html
This proviso is applicable throughout the entire website.