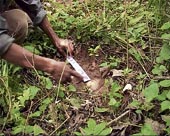 The Telegraph, Calcutta, India
Photo caption: A researcher measures a footprint thought to be that of Big Foot or as the locals say, "mande burung."
Shillong, July 3, 2008: "Gigantic, hairy, ape-like..." was all that Abu Marak could utter in between gasps for breath.
Surrounded by villagers in the safety of his house near Durabanda in the West Garo Hills, Abu's eyes still mirrored the excitement of spotting the animal. Within a few days, Abu's account, coupled with those of a few other villagers, became the raw material for a renewed scientific search for the legendary Big Foot — mande burung in Garo.
Sasquatch in North America, yowie in Australia, yeti in Nepal — Big Foot has its share of dedicated followers across the globe. The creature, which is supposed to be about eight feet tall, is said to have been last sighted at Rongrigittim in South Garo Hills in July 2005, before making a reappearance in May this year.
The Achik Tourism Society, which has been on this elusive animal's trail for the past few years, said the best sighting data was recorded in between January and March in 2002.
This year, the animal was spotted in forests between Nokrek and Chokpot.
"Soon after receiving news from the villagers, we sent our team on the trail of this unknown creature, but unfortunately we could neither see it, nor record any footprints," said Dipu N. Marak, general secretary of the Achik Tourism Society.
By the time the villagers reported their findings, the mande burung had shifted its location, rued Dipu.
Before coming together as the Achik Tourism Society, Marak and his friends were engaged in compiling data about Big Foot.
"We started our data collection on November 15, 1997, when the creature was first seen near Andol Chiring, in South Garo Hills," Dipu said.
Information on the mande burung are available in the form of video footages and photographs of footprints, which measure between 14 to 15 inches and impressions believed to have been left by the creature on trees and nests.
"We have already alerted the Wild Life Trust of India after hearing about its sighting this year, but the authorities have shown little interest in the creature," Dipu said.
The Achik Tourism Society has also apprised the deputy director of tourism in Tura about the findings.
Conservationists and biologists believe that the creature, which could be a descendant of the ancient primate, may have been living in the dense jungles of the Nokrek peak.
Author and Sahitya Akademi award winner Llewellyn R. Marak, who is also an avid follower of mande burung data — is optimistic that "one day the efforts by the villagers and youths to trace Big Foot will be rewarded."

"I have seen the footprints of this creature. It's really big and I am convinced that such a creature has a home in Nokrek," he said.
Llewellyn came down heavily on forest guards and officials for not heeding the villagers' reports.
"Very frankly, they (forest guards) are lazy and instead of listening to the villagers, they scold them."
All attempts by conservationists to persuade the forest department to initiate a research into the mande burung have also proved futile.
But that has not dampened the spirit of those who have ceaselessly been collecting every detail to prove that Big elusive Foot does existence.
- ---
The Telegraph - Calcutta, India
Back to Stories?
Back to Bigfoot Encounters Main page
Back to Newspaper & Magazine Articles
Back to Bigfoot Encounters "What's New" page



Portions of this website are reprinted and sometimes edited to fit the standards of this website
under the Fair Use Doctrine of International Copyright Law
as educational material without benefit of financial gain.
http://www4.law.cornell.edu/uscode/17/107.html
This proviso is applicable throughout the entire Bigfoot Encounters Website.