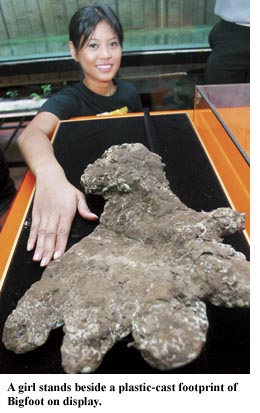 KUALA LUMPUR: Malaysia Feb 12 -- A foreign journalist and his team of paranormal investigators shooting a documentary on "Bigfoot" in the jungles of Johor's Kota Tinggi ended their expedition with the finding of a fresh footprint last Monday.
Measuring 60cm x 36cm, the footprint was found in Kampung Lukut by Joshua Gates, 28, and his expedition after combing 30sq km of the area.
Gates, who is the host of America television programme Destination Truth, made a plastic cast of the footprint, which will be sent for a DNA test.
Asked how they are convinced the footprint belonged to Bigfoot, Gates said: "The size of the footprint does not match that of any primates or animal we have ever seen.
"This is the most credible evidence to date that Bigfoot might indeed be roaming the jungles of Johor."
Gates, who is part of a seven member expedition from the United States, Singapore Paranormal Investigators (SPI) and Seekers Malaysia, found 10 similar footprints, but all had been washed away by rain and overrun by wild boars.
The footprint found was the only print still visibly clear; the flat foot with four rounded digits, plus a gorilla-like big toe jutting out from the side.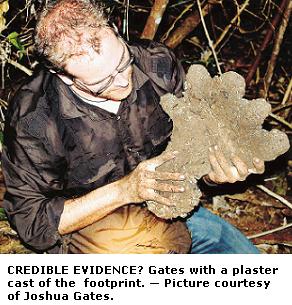 Seekers Malaysia crew Syed Abdullah Al-Attas said it will be sent for a DNA test before it is handed over to the Johor mentri besar.
Updated: 11:59AM Thu, 23 Feb 2006
http://www.sun2surf.com/article.cfm?id=13086

Additional photos added February 24, 2006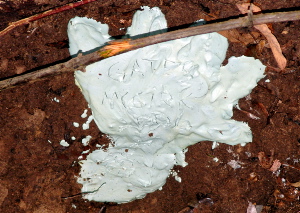 Photo below right is of elephant tracks,..not bigfoot tracks...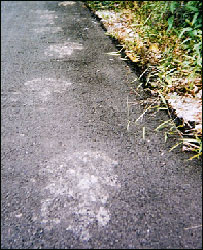 Back to Bigfoot Encounters Main page
Back to Newspaper & Magazine Articles
Back to Bigfoot Encounters "What's New" page




Portions of this website are reprinted and sometimes edited to fit the standards of this website under the Fair Use Doctrine of International Copyright Law
as educational material without benefit of financial gain.
http://www4.law.cornell.edu/uscode/17/107.html
This proviso is applicable throughout the entire Bigfoot Encounters Website.