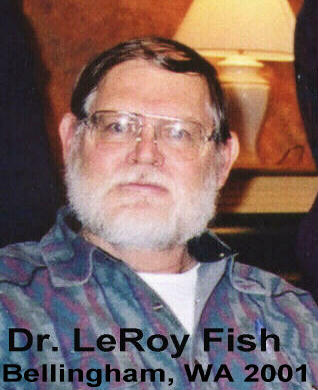 Dr. LeRoy Fish died at his home in Eugene, Oregon, Wednesday March 20, 2002.

According to his wife Jacqueline Fish, Dr. Fish went out to the barn to do chores; she found him awhile later in the shop. He was being treated for congestive heart failure."

LeRoy Fish had a doctorate in Zoology/Ecology from Washington State University, was a retired wildlife ecologist from Triangles Lake, Oregon, and had been a consultant on the Skookum cast find and other matters.

Dr. Fish had over 30 years experience in wildlife research. He will be missed.
- ---
Eugene, Oregon Register-Guard - Saturday March 23, 2002 Obituaries: LeRoy Fish

BLACHLY - A memorial dinner will be held March 23, 2002 for LeRoy Fish of Blachly, who died March 20 of congestive heart failure. He was 59.

Dr. Fish was born Feb. 10, 1943, in Portland to Ivor and Lorena Smith Fish. He married Jacqueline Fischer in Woodland, Washington on Oct. 7, 1983.

He received bachelor's and master's degrees from Walla Walla College and a Ph.D. from Washington State University. Fish worked as a wildlife biologist.

His interests included woodworking, teaching and fishing. Fish grew up in Eugene and lived for the past 15 years in Blachly. Survivors include his wife; three daughters, Melinda Fish of Euless, Texas, Melitta Verrill of Auburn, Maine, and Melissa Olfert of Poway, California; a brother, Merlin of Ridgefield, Wash.; a sister, Yvonne King of Springfield; and three grandchildren.
Saturday's dinner will be held at 2 p.m. at the Memorial Church in Blachly. Guests are encouraged to bring a plant or small tree. Chapel of Memories Funeral Home in Eugene is in charge of arrangements.

Back to What's New?
Back to Newspaper & Magazine Articles
Home/Main