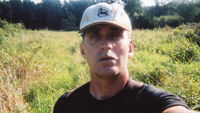 January 2009 -- Photo Caption: Minneapolis-based Bigfoot researcher Ed Welch is still tracking the elusive beast thanks to the lifesaving ingenuity of some Chisago County Sheriff's deputies.
On the afternoon of Dec. 26 near County Road 19 and Falcon Avenue in Lent Township, Welch was videotaping what he said was clear evidence of Bigfoot in the Carlos Avery Wildlife Management Area (WMA) when he became a victim of the area's plentiful swamps and marshlands.
Ed Welch believes he captured evidence of a Bigfoot-type creature in Carlos Avery Wildlife Management Area. Photo supplied
As his camera captured peculiarly shaped tree branches and sticks fashioned into teepee shapes (allegedly typical markings of Bigfoot), the ice below him broke and in moments Welch was waste deep in bitter cold water.
"Out of instinct, I threw the camera on the snowbank to save it," he said. As for the creek, Welch said, "I thought the ice would be solid."
Welch managed to emerge from the creek, but not unscathed. He was developing symptoms of hypothermia, he said, and was having trouble walking. To make matters worse, he was wandering aimlessly for hours throughout Carlos Avery, often going in circles. Then fear and panic set in.
"It was really scary to be lost and sick," he said. Video of the incident shows a distressed, anxious Welch working endlessly to stave off the freeze.
Welch, a veteran of the U.S. Navy and Army, was confident enough in his abilities to manage the wilderness, but this time he said he knew he had to call 911.
Initially, the sheriff's deputies could not find Welch nor he them. But Welch mentioned to police dispatch that when Deputy Bruce Brandenburg had his siren on initially, Welch could hear it.
Brandenburg re-activated the siren and set forth to navigate the labyrinthine wooded marshes in search of Welch, according to the police report. Brandenburg decided to follow the creek just north of the woods to see if he could find the point into where Welch fell.
Then Brandenburg zig-zagged back toward his car, meanwhile radioing a fellow deputy to change the tone of his squad car's siren to one that would carry better throughout the woods. He hoped that he would run into Welch as both men were heading toward the sound of the siren.
Brandenburg wrote in the police report that as he was walking about one-third to one-half-mile into the woods yelling Welch's name, he encountered a distressed, limping man who was carrying a tripod.
Welch was in adequate shape to walk back to Brandenburg's car and get into the idling ambulance. At first, Welch declined transport to the hospital, but then agreed after contemplating the effects of hypothermia on the body, according to the police report.
"They did a good job of finding me," Welch said of the deputies involved in the search. "I was so far back in there."
Bigfoot in Chisago County
That Friday afternoon may not have transpired the way he wanted, but Welch did stumble onto what he says is conclusive evidence of Bigfoot in Carlos Avery.
A retiree, Welch has been conducting field research for two years. He has visited the Chisago County area sporadically since October.
From his Dec. 26 excursion, he has photos of facialesque formations and footprints and also YouTube videos of unidentified creatures scurrying about the woods. He showed the Post Review a photo of the neatly organized, stick-based teepee structures that he says are also common at Bigfoot sites around the world.
The video shows a black creature running behind some trees. Welch admits that there are black bears near Stacy, but insists that his video shows no bears. For one thing, the beast is running upright, like a human "on its hind legs," Welch said.
Dan Rhode, the manager of Carlos Avery, has worked there for 34 years. He said he has never seen anything that would lead him to believe Bigfoot lives in his park.
Rhode said that earlier last week he encountered a bunch of footprints caused by someone wearing aluminum snowshoes, which are smaller than the wooden variety.
"I have no reason to believe the tracks are from anything other than people or bears," he said. But for Welch, the experience was real, as were the emotions it evoked.
A knack for Yeti
Welch credits a Bigfoot encounter at Medical Lake in Washington State in the 1970s with sparking his interest in the field. Time is also on his side these days.
"I am retired," he said, "and so I have all the time in the world (to do research)."
While camping at age 16 at Medical Lake, he heard a vicious, demonic sound from the valley below.
"I woke up to the most horrifying sound," he said, "like a howling scream."
He heard the sound again in a recording on the Bigfoot Field Researchers Organization Web site.
"I'll never forget that scream," he said.
Welch targets underdeveloped areas, such as dense woods and thick brush, and always tries to stick with remote areas.
"People say I am a 'get your hands dirty' kind of researcher," he said.
It was this spirit that led him to tackle the tougher parts of Carlos Avery.
Welch has learned from his harrowing experience. He reminds aspiring Bigfoot researchers that there is strength in numbers. Keeping a friend at your side can prevent you from getting injured and lost.
"I never want to go through that again," he said. "You should never go into the wilderness alone."
Rhode has his own tips for those audacious enough to brave Carlos Avery in the winter.
"Never trust the ice out here in the swamps," he said. Most of the soil is peat, which Rhode said creates heat when it decomposes.
"The water may not freeze even in the coldest winters," he said.
So prospective Bigfoot researchers should beware the quagmires they may encounter in the various environs, always conduct research in groups, and make sure to have a camera on-hand. The last one may be most important, Welch said.
"Bigfoot always seems to be elusive," he said, "but you should always be willing to collect data."
Courtesy East Central Minnesota Post Revew...January 14, 2009
- ---
Back to Bigfoot Encounters Main page
Back to Newspaper & Magazine Articles
Back to Bigfoot Encounters "What's New" page


Portions of this website are reprinted and sometimes edited to fit the standards of this website
under the Fair Use Doctrine of International Copyright Law
as educational material without benefit of financial gain.
http://www4.law.cornell.edu/uscode/17/107.html
This proviso is applicable throughout the entire Bigfoot Encounters Website.