Mobile, Alabama - Take 10 round trip airline tickets, traveling 60,000 miles to locations like Nepal, Louisiana and the Pacific Northwest; $1 Million and some of Hollywood's best special effects and makeup men and you've got a movie.
Not quite so easy suggests veteran film producer Alan Landsburg, in Mobile to promote his latest release entitled "Man-beast, Myth or Monster." We chose Mobile because it is a reasonably representative audience," the filmmaker said, stroking a dark, sprinkled with gray goatee. "The film is for the open minded, it is phenomena, something without a pat explanation. The 90 minutes feature film focuses on the finding of the abominable snowman "Bigfoot" which Landsburg calls "the search for man's most recent descendant."
Dubbed "the most documented film produced about the Bigfoot sightings," the flick is based on 130 eyewitness accounts of contact with the beast, which Landsburg invariably believes to be true. "You've got to be careful about sightings. We chose to dramatize 12 stories, all of which showed different encounters with the manbeast."
Portrayals include the tales of two Nepalese tribesmen who were cooped up in a cave with a roaring, huge foot printed beast; the mysterious disappearance of a Washington skier, his erratic ski trails followed by large unknown snow prints and the invasion of a campsite in Honey Island, Louisiana which is 100 miles from Mobile. "There are three points of view here," he said. "Either you're absolutely neutral, you do or you don't believe. There has got to be the possibility of another explanation about these creatures. There are 135 verified eyewitnesses - are 135 people loons?" "Is every footprint phony?"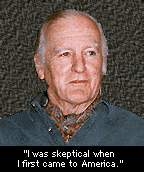 The story line also follows Peter Byrne, who plays himself as a self-styled monster hunter, obsessed with finding the abominable snowman. "It is a self-supported operation in Washington," Landsburg said of Byrne's Bigfoot Investigation Center. "We're close, really close to locating a creature." So close, he adds, that the creature is not without a detailed description. It is over 7 feet tall, more than 350 pounds, with a four-foot length of stride and short hair. It meets its own environment and has a man like face with large eyes."
Reported habitats were filming locations for the movie crew, taking them from full-scale expeditions into the Himalaya Mountains to murky waters of swampland Louisiana to the northwest woods of the State of Washington. At one point the film crew was snowbound on Mt Everest for a week!
In such a "world of wilderness" Landsburg believes that Bigfoot quietly exists, until man disturbs it. "Manbeasts is a biological dead end - big and physical enough, but not smart enough to survive. It is a form of man never see around that had survived out of sight like lost cities."

The producer qualified his beliefs of wilderness life. "If you place a pin on the globe at random, there is one chance in 400,000 that you will hit a populated area. There are just so many places where we don't know what exists." In addition to his book and film in search of Bigfoot, Landsburg includes an impressive list of credits in his career, like work with the National Geographic Society and Jacques Cousteau specials. His current "In sear Of…" television series is celebrating its third successful season with past pilgrimages around the world to located lost civilizations, special phenomena, missing persons, magic and extraterrestrials. "Manbeasts, Myth or Monster" opens a limited engagement tonight at the Bel Air Cinema with show times set for 7:30 and 9:30.
© Mobile Press
November 17, 1978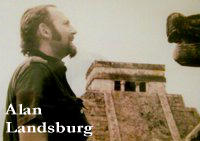 Landsburg:
While attending New York University, where he earned a degree in Communications, Alan Landsburg worked, like so many future television shapers, as a page at NBC. After joining the NBC radio affiliate in New York as a producer/writer, he went on to a prominent career in documentaries. In 1964 Landsburg's film "Kennedy, The First Thousand Days" received a standing ovation at the Democratic Convention.
From 1965-1970 he was Executive Producer of the National Geographic Specials, and from 1967-1970 he produced The Undersea World of Jacques Cousteau, which he also co-created.
Alan Landsburg sired the phenomenon from which the show "In Search Of…." takes its name in 1976. The original series ran for six seasons, opening the minds of a generation to the possibilities of our world and beyond. His travel and research have generated a number of books and films, including the 90 minute bigfoot movie "Manbeasts, Myth or Monster" in 1978 and he has produced countless television series, movies of the week, and plays. The presentation style that Landsburg pioneered with In Search Of... ushered in a whole new television genre. As Executive Producer of the new "In Search Of..." he'll be bringing the genre to the next level.

Back to What's New?
Back to Newspaper & Magazine Articles
Home/Main



Portions of this website are reprinted under the Fair Use Doctrine of International Copyright Law as educational material without benefit of financial gain. This proviso is applicable throughout the entire website at www.bigfootencounters.com