February 18, 2006 19:43 PM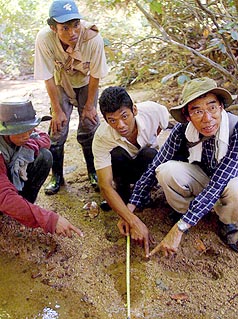 JOHOR BAHARU, Feb 18 (Bernama) -- The Johor Wildlife Protection Society said it has "scientific evidence" to prove the existence of Bigfoot whose reported sightings recently in the Johor jungles have excited the world's media.
Not just one Bigfoot but a whole colony of the giant, hairy creatures which the society named "Orang Lenggor" (Lenggor People) as one was spotted in an area by that name, said the society's secretary Tay Teng Hwa.
"We will make public the evidence soon," he said today.
He said a member of the society had studied the creatures for six years and interacted directly with the colony.
"The adult creatures are between 10 and 12 feet tall while their children are 6 to 7 footers. Seventy per cent of the Orang Lenggor have a human appearance but the rest resemble apes," he said.
Tay declined to reveal the location of the Bigfoot colony or the type of "scientific evidence" in the possession of the society.

Source: http://www.bernama.com.my/bernama/v3/news.php?id=181090

and additional articles:

February 20, 2006 13:34 PM
Bigfoot Sighted In Endau-Rompin National Park

ROMPIN (Pahang), Feb 20, 2006 - (Bernama) -- Orang Asli living along the Johor-Pahang border claim they too have seen "Bigfoot" in the Endau-Rompin National Park while collecting forest produce in the area.
They call the hairy man-like creatures standing over four metres (12ft) tall as "hantu siaran gigi" or "hantu hutan".
But those are not the only creatures they have seen for they have also sighted "hantu semawa" -- a creature whose body size is similar to an ordinary human -- and "hantu bojok" which is much smaller.
Tok Batin (tribal chief) Sati Pak Burut, 48, said his men had told him several times of their encounter with such creatures in the Johor forest.
"My men often go into the forest for up to two or three weeks. When they return, they will tell lots of stories like seeing hantu hutan, hantu bojok and hantu semawa," he said.
Tok Batin Sati, who heads over 300 families in Kampung Guri, said no untoward incidents had happened so far involving his men and the creatures.
"Normally, when seeing such a creature, they just leave the area. They do not want to disturb it. It knows that we are poor, the creatures and us depend on the forest for our livelihood," he said.
Villager Alias Kuwi, 32, said he had seen a hantu hutan catching fish while looking for fragrant wood in the forest.
"We looked at it and it looked back at us, then we continued walking. It did not bother us," he said.
On hantu bojok, he said, the one he had seen was not as hairy as a Bigfoot.
"Hantu bojok is small. We've seen it many times. It looks like a dwarf. Once, we saw it catching fish and when it saw us, it ran away," he said.
Alias said he and his friends had never seen such creatures in other forests except in Johor.
"We are used to entering forests, sometimes in Terengganu looking for fragrant wood, rattan and other forest produce but only in Johor we've seen such creatures," he said.
He said normally they entered the forest in a group of between three and nine people and stayed there for two to three weeks depending on the ration they brought.
-- BERNAMA
http://www.bernama.com.my/bernama/state_news/news.php?id=181303&cat=et
Back to Bigfoot Encounters Main page
Back to Newspaper & Magazine Articles
Back to Bigfoot Encounters "What's New" page

Portions of this website are reprinted and sometimes edited to fit the standards of this website under the Fair Use Doctrine of International Copyright Law
as educational material without benefit of financial gain.
http://www4.law.cornell.edu/uscode/17/107.html
This proviso is applicable throughout the entire Bigfoot Encounters Website.