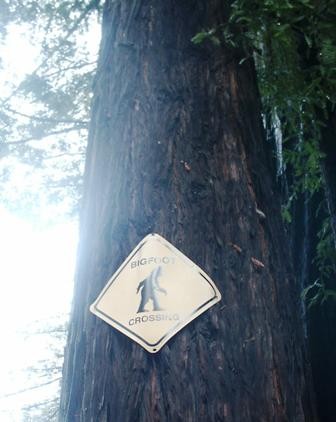 November 30, 2010 -- Garberville, California – It's a big, hairy ape-like creature that has a distinctive fowl odor say those who claim to have encountered "Bigfoot," or "Sasquatch," as its commonly called. The creature is legend around the world, and especially in northern California where's it's been sighted on a regular basis for the past 150 plus years. Recent Thanksgiving week new sightings in Garberville and other redwood communities have concerned both residents and the California Department of Fish and Game.
At the same time, there's been recent reports of Bigfoot or a creature like it in and around the Eugene area. In fact, one local resident of the Eugene suburb of Alpine noted "seeing Bigfoot over Thanksgiving" while walking his dog in the woods near his home. Bigfoot has been a regular "visitor" to the Eugene area, say local U.S. Forest Service officials who've fielded hundreds of calls about Bigfoot in the woods of western Lane County.
Bigfoot responding to increase in tourism
One local media report stated that Bigfoot tracks were spotted near Garberville on Nov. 27 with massive feces droppings that were and not from a bear. In addition, numerous residents of the back woods area of town called police after hearing "terrible human-like moans coming from the forest."
While the California Department of Fish and Game and local and state police departments are responding to recent Bigfoot sightings by locals and tourists in and around Garberville in Humboldt County, there's a view around here that "Bigfoot will be Bigfoot, and that's what he does from time to time," says Garberville resident Ian Halmrast.
Still, other locals say they're scared for both themselves and their children.
One local film maker from the L.A. area recently made a film about the legend of Bigfoot, and noted "it's not aggressive when confronted by humans. The film maker also found evidence of Bigfoot kidnapping children from camp sites, but not harming them.
"There was this sound of food being scraped from a plate, and then an unbelievably loud cry as if someone was in pain. We ran towards it, and heard the sharp and brittle crack of the tree branches. We could then see this big thing run into the forest," says Halmrast while breathing an exasperated sigh after the story he told.
Halmrast and others in Garberville -- a former logging and mill town in Northern California that was named "Dogtown" by the first settlers who arrived in this towering region of redwood trees back in the mid-1850's – said there's good reason to believe "Bigfoot is still out there."
Garberville sits high in the mountains at nearly 550 feet where, say locals, "Bigfoot likes to hang out."
During the recent Thanksgiving week -- with thousands of tourists and other visitors stopping to enjoy the redwood trees -- the recent new sightings of Sasquatch began to unfold.
"We first heard that he (Bigfoot) was back when a told us about a police report of something scaring people in the nearby forests. We all thought Bigfoot right then and there because we know it's out there somewhere," explains Deborah Dorsey who works in a local café.
At the same time, Dorsey notes that her brother Steve works at a nearby redwood tourist center that "markets Bigfoot" for tourists.
"Steve says he sells more carved Bigfoot figures and signs than most anything else during the busy summer months. While the police and the scientists who come up here discount the existence of the big guy, we know different because the stories have been going on for so long," explains Dorsey who notes her grandfather telling her about Bigfoot when she was a kid more than 60 years ago.
Bigfoot is a legend with a long history in the Pacific Northwest and California
Anyone conducting research about Bigfoot or Sasquatch will find hundreds of thousands of references to the creature's existence. Even accredited researches such as ape expert Jane Goodall have noted believe in such a creature existing both in North America and in various other places throughout the world.
Still, Bigfoot remains one of the most famous and controversial creatures in science today.
Those who've reportedly seen Bigfoot describe the ape-like beast as ranging between six to 10 feet with dark reddish hair and the weight and size of a big bull or cow. Those who've alleged to have seen the creature say it has large black eyes and a sort of cave-man like features.
Here in Garberville and other small town in the redwood forest region of Northern California the main claim to fame that Bigfoot is about "always seems to center on his footprints," says local forester Wayne Cruthers.
"You get the tourists telling stories about spotting these footprints in the woods, and you just smile because you know that so many others also see Bigfoot foot prints but they don't tell the cops or report it. You see, they're not sure are they. It could be a bear or something. I think if we had a regular way to report Bigfoot sightings than we'd catch the thing," says Cruthers who's made it "a hobby to track Bigfoot legends in Garberville."
Likewise, there have been numerous sightings of Bigfoot in 2010. The California communities of Mt. Lessen, Mt. Shasta, Weed, Round Mountain, Elk Creek, Caribou, Happy Camp, Clear Creek, Trinity Alps, Weaverville, Crescent Mill, Mammoth Lakes, Bear Valley, Eureka, Yreka, Fort Bragg, Orick and Crescent City have all listed reports to police about a "big, hairy beast walking in the woods."
"We've seen photos of Bigfoot tracks that have a sort of claw look like a bear's footprint. You sort of look in disbelief that such a thing could be around your home and kids," says Cruthers with a helpless wave of his hands.
Bigfoot advocates have said "Bigfoot is a worldwide phenomenon that simply won't go away."



Back to Stories
Back to Bigfoot Encounters Main page
Back to Newspaper & Magazine Articles
Back to Bigfoot Encounters "What's New" page



Portions of this website are reprinted and sometimes edited to fit the standards
of this website under the Fair Use Doctrine of International Copyright Law
as educational material without benefit of financial gain.
http://www4.law.cornell.edu/uscode/17/107.html