Seattle -- AP -- Al Corbett, a Seattle Taxidermist says Bigfoot, the creature whose huge human like footprints have the native of the Weitchpec area of Northern California guessing, is an Indian gone wild.
Corbett said he and another taxidermist Robert Titmus of Anderson, California inspected the tracks 25 miles north of Weitchpec on Saturday and found the prints to be "very large, definitely human tracks."
16 inches long
Corbett reported the clearest footprint was 16 inches long, five inches across at the heel and seven inches across at the ball of the foot.
A logger in the area, Gerald Crew, last week brought out a plaster cast of a clear footprint, Corbett reported Titmus had furnished Crew with the Plaster with which to make the cast.
"The story behind this is that there was a mentally deficient Indian boy who was kept chained by his parents, Corbett said.
Breaks Chain
"When this boy was 17 years old, 28 years ago, he broke the chains and disappeared. The Indians found his clothes but never saw him again. They said he had extremely large feet."
"We talked it over a great deal and figured this man now must be 6 feet, 7 inches to 7 feet, 6 inches tall. We thought he might weigh as much as 400 pounds. He made firm footprints in hard ground.
Measuring the footprints for a distance of more than 60 feet, we found the average stride was 50 inches. We check this against the stride of a man 6 feet 4 inches tall with long legs and his stride was 30 inches.
Stride is 10 feet
"We were told by people who saw footprints when this unknown man was running that they were ten feet apart. I know positively this is a human being."
"It seems logical that it is this Indian who disappeared and is living wild. He does his traveling at night. He has not molested anyone. We learned these tracks have been appearing for the past ten years."
Corbett said Titmus is preparing to set up camera traps in an effort to obtain a photo of bigfoot.
Copyright The Fresno BEE, Fresno, California 1958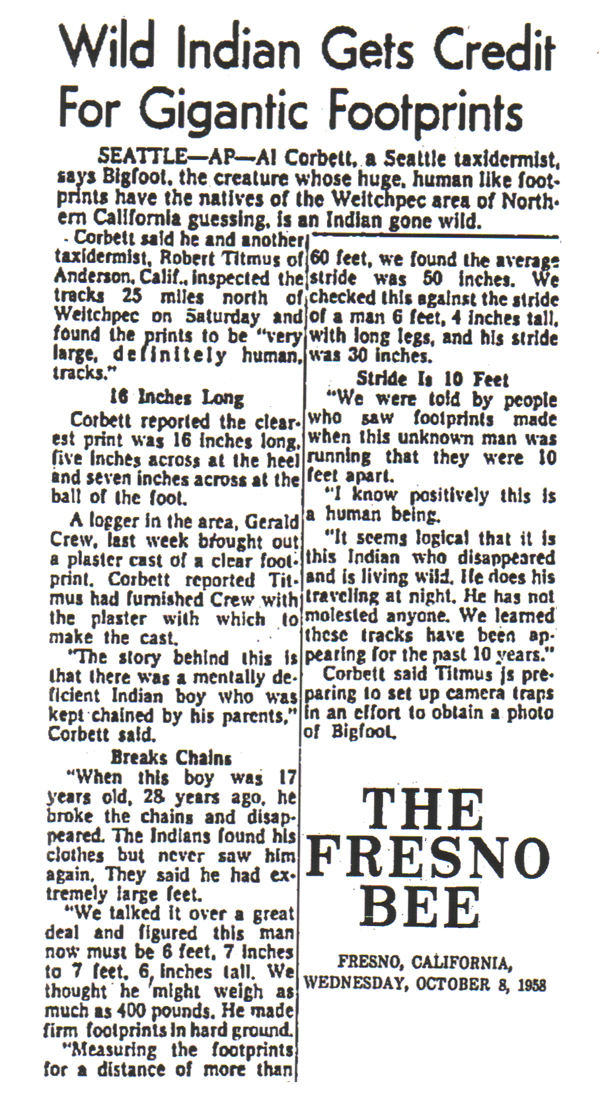 ...and this extra article on the same subject...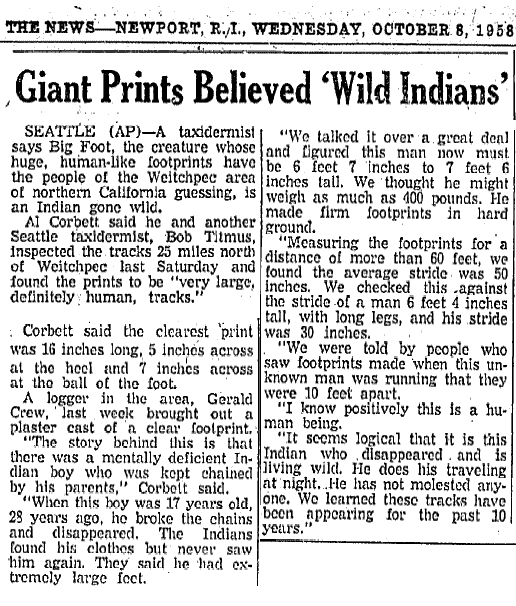 From the files of Rene Dahinden, Richmond BC, 1999

Back to Bigfoot Encounters Main page
Back to Newspaper & Magazine Articles
Back to Bigfoot Encounters "What's New" page



Portions of this website are reprinted and sometimes edited to fit the standards of this website
under the Fair Use Doctrine of International Copyright Law
as educational material without benefit of financial gain.
http://www4.law.cornell.edu/uscode/17/107.html
This proviso is applicable throughout the entire Bigfoot Encounters Website.