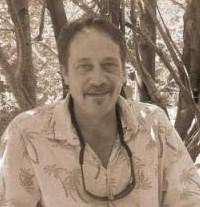 August 6, 2010 -- Eight months ago in January, the Humboldt Beacon reported on bigfoot researcher William Barnes of Nevada City who unveiled plans for bringing a research team to Humboldt County last month in July to look for and document the controversial creature.

Calling this major undertaking "The Falcon Project," Barnes explained that it took him close to 12-years to develop his unique and sophisticated method of recording the creature in its natural habitat. Adding that he's the first in history to utilize remote-controlled blimps with on-board thermal imaging cameras and high-tech audio equipment, Barnes hopes to capture graphic or sound imprints of the allusive animal in a documentary film format. And whether or not The Falcon Project reaches its ultimate goal of substantiating Bigfoot, the film will serve as a historical record for future generations of researchers.

Talking to Barnes at his Nevada City, California home, the researcher said that it's time to discard the old Bigfoot name and to go with a more scientific designation. "That term has become over-commercialized, and based on what we've been able to gather, it's probably more correct to call it a native American ape/hominoid."

And the idea that it could be a hominoid fuels interest in our own origins. But because little has been taken into evidence, the creature continues to be another cryptozoological mystery for the time being. While the Falcon Project continues to gain momentum, the search for Bigfoot or the ape/hominoid in Humboldt County was rescheduled for a near future time, and the Humboldt Beacon will carry occasional updates on Barnes' project.

Having seen the creature with his own two eyes, Barnes is convinced there is something to the tales, and is determined to set out to capture photographic evidence of the creature. To help rally support around the investigation, Barnes set up a website (www.bigfoot24-7.com) and described his search as "the most penetrating search for Sasquatch/Bigfoot ever conducted in North America."

From his website, Barnes wrote, "As a weekend gold miner in Northern California, I had such a creature walk up to my tent, so close I could have touched it, and then walk past me and up the side of the hill. Since that night by the creek, I have pondered for years, about how one could be filmed for any length of time, and how it could be studied in it's own safe habitat."

Barnes explained that his team would base their first search efforts on locations known to have been visited by the creature. "We would go to an area around Klamath River, and I would be using historical sighting maps and documentation that has been deemed credible. I would not stop in one place for long durations, since there have been many sightings on the entire West Coast," Barnes clarified.

And yes, Barnes plans on using a unique, one-of-a-kind 35-foot blimp that will hover over areas of special interest. "Mine is being custom-made for the job it has to do. It is a remote control and is being made to go up to five hours glide time," Barnes said. Meanwhile, his RV will act as a control center during the flyover and film investigation.

Not going into great detail to reveal his procedures, Barnes said that his system is all run by electric, and all high-tech. "I can see up to 2,200 feet in the dark, and this will be nearly all night work."

Barnes acknowledges that films can be simple to fake, especially small ones. His plot therefore, is to film a documentary following the building of the blimp, installation of infrared cameras, and volunteers at work.

"The thermal-imaging cameras are the newest in today's technology, and are the same as the ones being used by the military. The infrared camera can describe an image in the dark, as clearly as though it were in daylight," Barnes added.

To help Barnes in the endeavor, the Big Foot stalker will use a five-person crew who will be alert to the creature's presence around the clock. Not worried of skeptics or naysayers, Barnes clarified that the reason why his project was conceived is to prove that the creature is real, and is not something fabricated to sell books and movies. "Because it is controversial, human curiosity drives us to investigate further," he said.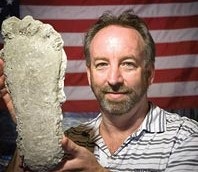 Barnes is joined by William Dranginis of Virginia Bigfoot Research and Jason Valenti of Sasquatch Research.

Together, the team has produced a 19-page Business Plan that details the Falcon Project in full. The Falcon Project website is at www.bigfoot24-7.com.


Bill Dranginis



submitted photos
1. Researcher William Barnes of Nevada City, California
2. William Dranginis of Manassas, Virginia




Back to Stories
Back to Bigfoot Encounters Main page
Back to Newspaper & Magazine Articles
Back to Bigfoot Encounters "What's New" page



Portions of this website are reprinted and sometimes edited to fit the standards of this website
under the Fair Use Doctrine of International Copyright Law
as educational material without benefit of financial gain.
http://www4.law.cornell.edu/uscode/17/107.html