Santa Clarita Valley November 1974 -- Count the legendary Sasquatch (bigfoot) and the hairy monster of Plum Canyon be one and the same?

The California Society for the Exploration of the Unexplained (ESPER) thinks so.

Peter Guttilla, ESPER spokesman, said his organization is so convinced that there is something to the reports of a nine-foot-tall hairy creature lurking in the area that it is negotiating with a private landowner near here for use of a portion of his property for an around the clock observation post.

In addition, Guttilla said ESPER plans to contact the Sheriff's Department and US. Forest Service to arrange a program under which strange sightings and unusual activity could be forwarded to the group.

Guttilla said the steps are being taken following a month long investigation in the area which included interviews with residents as well as independent field study.





"What we are learning from residents," Guttilla said, "is that whatever is spooking livestock or upsetting nerves is similar to events surrounding Bigfoot sightings in northern California."

Guttilla said one of the phenomena is a strange sound heard at night which sounds like a child crying.

"Such sounds," he said, "have been recorded up north and identified by local residents as the same as they have heard. We have a rancher in the area who is tape recorded what she describes as unusual night sounds."

Guttilla said that while combing the rugged canyons surrounding Santa Clarita Valley, members of ESPER have "found what we think might be the vestiges of old footprints, in sequence, indicating they were made by something with a six-foot stride."

However he noted that rain has ruled out any possibility of a full identification.

Guttilla said that at the planned observation post observers would use infrared viewing equipment to scan the area at night.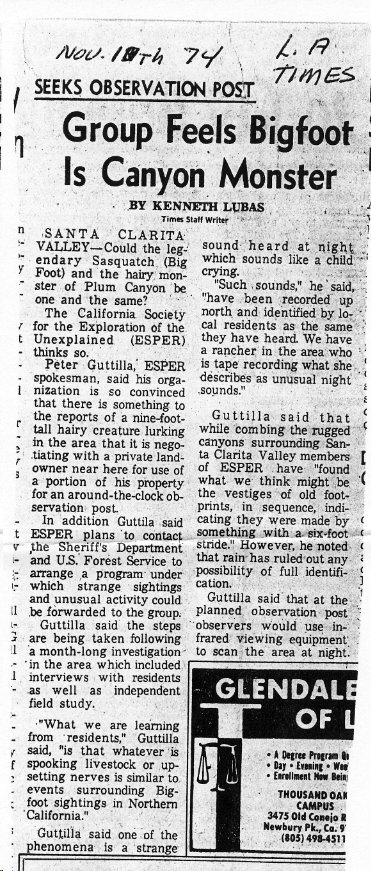 Article courtesy files of (C) Peter Guttilla
uploaded March 2010



Back to Biology?
Back to Stories?
Back to Bigfoot Encounters Main page
Back to Newspaper & Magazine Articles
Back to Bigfoot Encounters "What's New" page










































Portions of this website are reprinted and sometimes edited to fit the standards
of this website under the Fair Use Doctrine of International Copyright Law
as educational material without benefit of financial gain.
http://www4.law.cornell.edu/uscode/17/107.html
This proviso is applicable throughout the entire Bigfoot Encounters Website