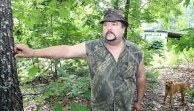 Photo: Tim Peeler shows where he reportedly saw "Knobby,"
- a Bigfoot creature of Cleveland County lore earlier this month.
Photo copyright Jeff Melton/The Star -->
Monday, Jun 14 2010, 6:00 pm -- Legend speaks of an ape-like creature who called Upper Cleveland County home in the late 1970's
Robert Williams, then covering the news for Charlotte media outlets, named him "Knobby," a towering beast many considered as the resident Bigfoot.
Williams never saw Knobby — "I only wrote what I was told."
Knobby stories flew overseas, Williams said, drawing interest from New Zealand and beyond. Newspaper articles from 1979 detail more than a dozen Knobby sightings and investigations by the North American Research Association and researchers from a university in Massachusetts. But the rumors and sightings near Carpenter's Knob — hence the creature's name — mysteriously stopped decades ago.
Then, Timothy Peeler called 911.
Peeler, of Vanada Drive in Casar, is a self-proclaimed "South Mountain man." He's surrounded by woods and a ridge worthy of postcards.
It was June 5 when Peeler supposedly spotted a man-beast, upwards of 10 feet tall, that screeched like "a night bird" and grunted in the warm night air.
The creature sported dark hair, Peeler said, with a grey beard stretching to its navel.
Authorities were dispatched that morning around 3 a.m., according to a report from Cleveland County Communications.
Deputies filed a suspicious person report after investigating the incident.
Williams was surprised to hear of the recent sighting. It had been years, he said, since Knobby's supposed existence made headlines.
The sasquatch was reportedly sighted in the 70s by numerous people, including highschoolers, a banker and an elderly woman. One man said Knobby might have broken his goat's neck.
"People came in from everywhere," Williams said. "People contacting me from around the world."
Sasquatch watch
What if you spot a Knobby-esque creature fiddling through your trash? Spotters say the walking legend isn't aggressive, but police say to take caution anyway.
Cleveland County Sheriff's Capt. Alan Norman said local Bigfoot sightings are few and far between, but "if there is a call, there's standard protocol to be dispatched to the area."
"Deputies basically check the area for any unusual sightings," he said. "A suspicious person would be treated in the same category."
Reporter David Allen