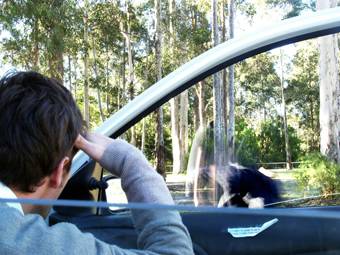 Australia -- 01 June 2007 -- A mysterious creature allegedly sighted scampering into the bush outside Batemans Bay has all the hallmarks of the legendary Yowie, according to cryptozoology experts.
Around 11pm last Saturday a Batemans Bay resident, who wishes to remain anonymous, saw what she described as a two-legged non-human creature in her headlights.
She said it was more than six feet tall, covered in a dark brownish fur and appeared and moved like no other animal she had ever seen.
After hearing the report, cryptozoologist Paul Cropper said it was consistent with many he had heard from around the country.
Mr Cropper said Batemans Bay was one of the country's hot spots for sightings of the mysterious ape-like creature.
He said while the subject was "certainly a little bit out there", it remains a mystery that has intrigued many people around the Eurobodalla.
"The thing is there is a strong tradition of these cases dating back to the 1800s around that area," he said. "Many of the reports have come from quite reputable people."
Mr Cropper has spoken to around 130 eyewitnesses himself.
"The question is, what are they?" he said. "When you think about it, there's no other
animal they can be mistaken for. In America people may just be spotting bears, but not in Australia."
Famous Australian cryptozoologist Tim The Yowie Man agreed that the latest description fits the profile of a Yowie.
He said Batemans Bay was one of Australia's top five spots for reported Yowie activity.
A book authored by Mr Cropper and Tony Healy, The Yowie: In Search of Australia's Bigfoot, references Batemans Bay several times.
This includes a letter to the Australian Town and Country Journal in 1882 by a H J McCooey.
He claimed he met an Australian ape in the bush between Batemans Bay and Ulladulla and said he knew at least half a dozen local men who had seen the same.
Mr McCooey described it as "a most uncouth and repulsive-looking creature, evidently possessed of prodigious strength".
The authors claimed this fits in well with local Aboriginal lore, as it described the Cockwhy Mountain area where an Aboriginal elder said Yowies had lived until at least the 1950s.
The book describes an encounter with a pair of the creatures in 1972 when a Bowral truck driver stopped near Cullendulla.
And in 1977 the Moruya Examiner reported the discovery of giant footprints and strange activities on Budd Island, however the authors tended to think this case was a hoax. But they list several other cases, some on the western fringe of Batemans Bay as well as in the Mogo State Forest among other places.
Article from the Batemans Bay/Moruya Bay Post June 2, 2007


Back to Bigfoot Encounters Main page
Back to Newspaper & Magazine Articles
Back to Bigfoot Encounters "What's New" page


Portions of this website are reprinted and sometimes edited to fit the standards of this website
under the Fair Use Doctrine of International Copyright Law
as educational material without benefit of financial gain.
http://www4.law.cornell.edu/uscode/17/107.html
This proviso is applicable throughout the entire Bigfoot Encounters Website.