May 2, 2002 by Alix Kerl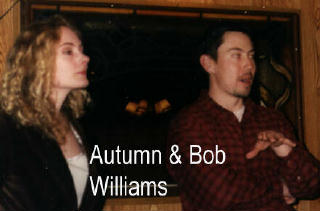 Autumn Williams said she had her first encounter with Bigfoot when she was three years old as she was gathering firewood with her mother in Washington. As they were looking for sticks, her mother stopped in front of her and Williams slammed into her back, startled.
"I stopped and looked up and there were a couple of big hairy people in front of me," Williams said. "The big one was dark and the little one was lighter. My mom said, "Autumn, walk, don't run, walk back to the house."
Williams will be one of three speakers talking about Bigfoot research beginning at 7:32 p.m. Friday at the Museum of Unfine Art and Records.
Williams said she is frustrated by people's emphasis on the actual sighting, because she was so young at the time that she doesn't remember every detail. "What I do know is that we saw a couple of things that weren't supposed to be there," Williams said, "But, when you are three years old, you don't know that big hairy people aren't supposed to be walking around," she said.
The thing that really struck her about the creatures was their eyes, because she saw a human intelligence in a non human face. "There was something incredible eerie about it," she said. The experience remained ingrained in her memory and when she was 16, she began doing formal research and field work on Bigfoot. Twelve years later she is a privately funded researcher whose goal is to develop trust and rapport with the creatures and study them in their natural habitat. Her work has culminated in the http://www.oregonbigfoot.com website. -- Alix Kerl
Back to What's New?
Back to Newspaper & Magazine Articles
Home/Main
Portions of this website are reprinted and sometimes edited to fit the standards of this website under the Fair Use Doctrine of International Copyright Law
as educational material without benefit of financial gain.
http://www4.law.cornell.edu/uscode/17/107.html
This proviso is applicable throughout the entire Bigfoot Encounters Website