October 13, 2011 -- There are new claims of bigfoot encounters -- in Siberia and rural Michigan -- that will likely add to the debate over whether the creatures really exist, although neither holds the smoking gun of a photograph, tissue sample or other scientific evidence.
A group of Russians claim a living "snowman" roams the cold Shoria Mountain area of southern Siberia. Meanwhile a woman in Newaygo County, Mich., told Discovery News that she has been interacting with and actually feeding a large family of close to 10 Bigfoot-like creatures who live in the woods near her home for the past two years.
"They get fish every day, a bucket of fruit, a bucket of dry dog food," said Robin Lynn Pfeifer, a 47-year-old resident of Newaygo County, north of Grand Rapids. "Their favorite thing is blueberry bagels. If I'm not baking them, I go to different stores to buy them. I tell them they are feeding the wildlife."
She said she has collected casts of many large footprints, but says the creatures are too shy and too clever for her to get a photograph. She describes the Bigfoots as ranging from six to nine feet tall and looking like humans, except for hairy coats and broad noses.
"The biggest one I've sat and looked at for 15 minutes was nine and a half feet tall," Pfeifer told Discovery News. "The large male is all black. Others are beige and white. The biggest footprint is 18 and a half inches long."
Skeptics say that big claims need big proof, and so far that hasn't happened when it comes to Bigfoot. Natural history and evolutionary scientists also ask how these creatures could have survived for so long without being detected, and where the evidence is of their body or bones or DNA.

Loren Coleman directs the International Cryptozoology Museum in Portland, Maine and has been studying and writing about strange sightings of creatures for several decades. He says he's skeptical of anyone who comes forward with tales of lengthy Bigfoot encounters without providing serious evidence.
"All the Bigfoot contactees -- for some reason they never take photographs," Coleman said. "There's a lot of interest in finding these things, but we have to look of the credibility of the people feeding us the stories. I'm always careful of two kinds of people, the debunkers who have no interest and the true believers who will not bring any critical thinking."
Coleman said he hasn't met with Pfeifer, but is doubtful, comparing her story to people who meet with aliens from UFOs.
"They really believe they are having these experiences," Coleman said. "I don't know if its hallucinations or a psychological state."
Pfeifer, however, is convinced her encounters are real and she said she realizes that most people will not believe her because of the lack of proof, such as scat, hair, tissue or a good photograph.
She says the Bigfoot clan began visiting her home shortly after she and her husband and three children moved into a 10-acre rural property back in November 2009. The creatures also engage in some unusual behaviors, she said. Sometimes they make knocking sounds underneath the family home's crawl space, twist and braid a rope used to tie the family's pony, or construct elaborate stick structures in the woods.
Pfeifer said she's tried to snap their picture, but she has not been successful. When she set up automatic cameras in the trees near her home, the creatures turned them upside down.
"I want people to realize that they do exist," Pfeifer said. "They are not aggressive, they are more human-like than an ape and I'm very protective of them."
Michigan has a history of Bigfoot sightings -- and a network of residents who post their findings on a website.
Pfeifer has been traveling in Russia to meet with other Bigfoot believers -- scientists and amateurs alike -- who gathered in the Kemerovo region recently to talk about the existence of a Russian "snowman" in the cold Shoria Mountain area of southern Siberia.
Igor Burtsev of the Moscow-based International Center of Hominology said that after the meeting, researchers from the United States, Canada, Sweden and Estonia traveled for two days to an area that has reported sightings of a large, Yeti-like creature.
Burtsev said he is 95 percent positive that he has evidence to prove the creature's existence: some hair found near a cave entrance, grasses made into a bed, large footprints, and tree branches that form a certain pattern.
"We were just two days in the forest and we found many things," Burtsev said. "We found a lot of confirmation that they exist there."
Burtsev said that he visited Pfeifer's home for a week in June but did not see any of the Bigfoot creatures. The next step, Pfeifer said, is to record the creatures' unusual vocal sounds.
Jeff Meldrum, professor of anatomy and anthropology at Idaho State University, was at the meetings in Russia and has been sifting through the various claims about both the Russian Yeti in southern Siberia and Pfeifer's story of a Michigan Bigfoot.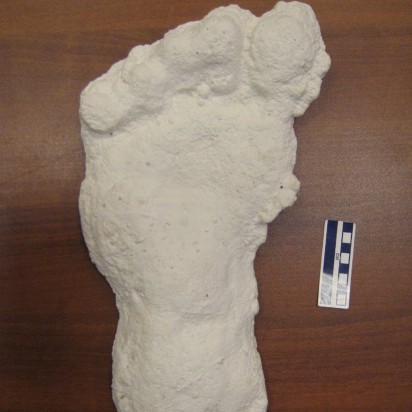 "There's no substance to any of her claims," said Meldrum, who is an expert in the evolution of early hominid gait. "If there were 10 to 12 around her home, she should be opening up a museum with all the artifacts."

Photo: A cast of a supposed Bigfoot print taken from Siberia. © Jeff Meldrum
Meldrum also has questions about what Burtsev presented during the two-day trip to the cave in the Kemerovo region. He says when the group of scientists entered the cave, there were several large footprints along the muddy floor, but strangely enough, they were only imprints of right feet.
"He must have been playing hopscotch," Meldrum quipped.
Meldrum says that while he's doubtful about the evidence for this particular creature, he is keeping an open mind when it comes to the possibility of a new species of hominid that could be alive today.
He points out that German scientists found finger bones from a new species of human ancestor known as Denisova hominin that co-existed with both humans and Neanderthals only 30,000 years ago.
That research was published last year in the journal Nature, using DNA sequencing to verify its age and identity. The cave where Denisova was found is 35 miles from the site where Meldrum and the other researchers were taken on their field trip.
- ---
http://news.discovery.com/human/bigfoot-sightings-michigan-russia-111013.html


Back to What's New?
Back to Stories??
Back to Newspaper & Magazine Articles
Home/Main


Portions of this website are reprinted and sometimes edited to fit the standards of this website
under the Fair Use Doctrine of International Copyright Law
as educational material without benefit of financial gain.
http://www4.law.cornell.edu/uscode/17/107.html