Wakaw and Punnichy SK

Saskatchewan I have been studying the phenomenon since 1958. A few months ago there was a good sightings about 30 miles from where I will be moving, in Wakaw, SK - so I am very interested. I live in Saskatchewan, Canada, and the sighting was at Wakaw, SK, in September 2005.
Although I do not have precise information, sightings have been reported and not documented on the Gordon Indian Reserve near Punnichy, SK a few years ago. An Royal Canadian Mounted Police (RCMP) officer was involved in that one. Tracks have also been seen on the North Saskatchewan River.

These incidents are in rolling parkland with farmland interspersed with aspen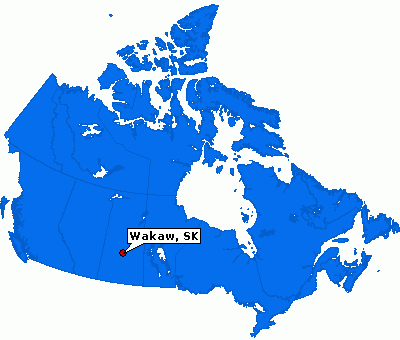 woodland, surprisingly close to the open grain belt here. They are close enough on
a timeline to be the same individual. Although
there have been reports of sasquatch in the
northern forests, and in the extreme southwest
of the province in the Cypress Hills, the above
reports are in areas of least expectance.
Signed: Bruno J. Kratz
Alan McCallum iamniceguy@...

Here is the sighting in Wakaw:
Near Wakaw, Highway #5 - Saskatchewan, CA
September 15, 2005 - Raining, shortly after noontime. Travel hwy 41 past Alvena, turn right on the Grid Road, which goes to St. Isidore De Bellvue about ten miles. Locate the Duck's Unlimited Wawryk property.
I went out duck hunting to a spot near Wakaw Saskatchewan that i have been going to for a few years now. It had rained heavily on the day before I went and the fields were quite wet and muddy. While walking to a good shooting pond I stumbled across something that was very strange. The crops had been cut and the swaths were still laying in the field. As I stepped over a swath I noticed that there was something white under it. I lifted the swath and found seven dead terns...(small, black headed seagulls..) they had not decomposed at all and looked as though they had not been there for long and had been packed together in a big clump, not scattered about . There were no visible injuries on them. At first I didn't know what to think, then I just figured somehow a raccoon had caught them and stashed them there because they have tendencies to do things like that with their food, I didn't think any more about it and went on to shoot a few ducks and started back to my truck to go home because it was starting to rain. Then my luck ran out...as soon as I got moving my truck slid off the shoulder of the mud road and into the ditch, I was stuck big time, so I started walking to go find a farmer top pull me out.
As I walked along the main Grid Road that connected to the trail my truck was stuck on I saw something I will never forget. It was raining pretty good and I had my face looking down toward the road but some movement ahead of me caught my eye. I saw something, it didn't seem really tall...but I was a couple hundred yards away from it. But it was big...I mean real big...wide across the shoulders and no neck just like a big giant head sitting on huge shoulders and short little legs and long arms it was moving extremely fast but not running...it was heading down the ditch at this little valley i was walking through...i saw it for 3 or 4 strides then it disappeared into some trees that were at the bottom. The valley was very narrow but also very long and trees cover the whole bottom of it, it freaked me out. It had to have crossed the road right in front of me but I had my head down and didn't see it until it had crossed the road and was heading into the valley-bottom. When I got to the spot that I figured it must have crossed I found one huge footprint in the muddy sand at the shoulder of the road...it was soaked real good so the footprint was full of water maybe 16 inches long but probably 5 or 6 inches across at the ball of the foot.
The thing I saw was dark brownish reddish unusual color. I have never heard of sasquatch sightings in the area and I have not told many people about this because I fear being thought of as some kind of nut. I don't know if the dead birds have anything to do with it but they were found only a few hundred yards from the top of the small valley that creature disappeared into.

Main
Back to State by State Page?